I, Daniel Blake
(2017)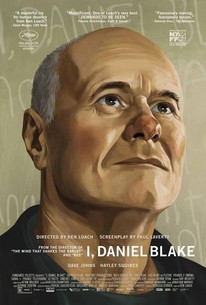 Movie Info
Winner of the Palme d'Or at the 2016 Cannes Film Festival, the latest from legendary director Ken Loach is a gripping, human tale about the impact one man can make. Gruff but goodhearted, Daniel Blake (Dave Johns) is a man out of time: a widowed woodworker who's never owned a computer, he lives according to his own common sense moral code. But after a heart attack leaves him unable to work and the state welfare system fails him, the stubbornly self-reliant Daniel must stand up and fight for his dignity, leading a one-man crusade for compassion that will transform the lives of a struggling single mother (Hayley Squires) and her two children. Graced with humor and heart, I, Daniel Blake is a moving, much-needed reminder of the power of empathy from one of the world's greatest living filmmakers.
News & Interviews for I, Daniel Blake
Critic Reviews for I, Daniel Blake
Audience Reviews for I, Daniel Blake
It is amazing that it has taken this long for "I, Daniel Blake" to even get a limited US release. As winner of last year's Palme d'Or at the Cannes Film Festival, it's safe to assume that that will not be the end of this film's accolades. Director Ken Loach has an almost unmarred history of producing quality films over the last 50 years, but this emotive and honest look at poverty in the first world rivals his 1969 masterpiece "Kes". The film concerns the titular Daniel Blake, a widower out of work due to health issues, as he struggles against a system that slowly kills the poor through starvation, exposure, and endless bureaucracy. He befriends a single mother of two, and they try to help each other stay afloat in a society of indifference. Along the way they have chance encounters with glimmers of human kindness that help them get by for the time being. It's not too dissimilar from last year's "A Man Called Ove" in terms of characters and plot, but the two films diverge in focus. "...Ove" is more concerned with the heart and how we can distance ourselves from others due to trauma whereas "...Blake" is an indictment of the state for its apathetic role in the degradation of the working class. Dave Johns does an excellent job of capturing Blake as a man who refuses to give up in spite of being trapped in an endless loop of paperwork and meetings. He embodies the frustration that the working class has simmered in for the last decade since, between the housing crisis and the banking collapse, it became abundantly clear that the haves will make no caveats for the have-nots.
K Nife Churchkey
Super Reviewer
After Looking For Eric, The Angels' Share and Jimmy's Hall I think it's fair to say that Ken Loach, in his twilight years, wasn't quite as hard-hitting as the reputation that preceded him. In fact, two films inbetween these - Route Irish and It's a Free World - where largely ignored all together. You'd have to go back to 2006 and his politically charged, Irish revolutionary drama The Wind that Shakes the Barley, to find quintessential Loach. Now though, he returns with another political drama in I, Daniel Blake and it's one of his most potent and important films. Plot: After a heart attack leaves him unable to work, widowed carpenter Daniel Blake (Dave Johns) is forced to apply for state welfare. However, the system is designed to make it difficult for him to receive any support at all. Throughout his ordeal, he befriends Katie (Hayley Squires), a single mother who finds herself in a similar situation, while trying to raise and feed her children. Together, they try to rise above the indignity of the governments extreme 'austerity' measures. In 2014 (directly after Jimmy's Hall) Loach decided to announce his retirement from filmmaking. It was crushing news from one of the most passionate political voices in British cinema. Not to say that there isn't other talents who tackle similar projects and important social issues in film (Shane Meadows and Mike Leigh spring to mind) but there really isn't anyone quite like Ken Loach. In keeping with his socialist views - before he said farewell - he allowed all of his filmography to be available for free via YouTube. However, his retirement lasted just over a year before he stated his intent to come back and make a film on the British welfare system and the Tory government's barbaric treatment of the most vulnerable people in society. Loach obviously felt that this was a story that needed to be told. And it is. In fact, this film has been so effective that it was even raised and commented on in the Houses of Parliament, itself. Naturally, the Tory MP's lambasted it for being unfair (oh, the irony!) or for failing to accurately depict the "decency" of those that work with the Department of Work and Pensions - the very foot soldiers of the Govt who have been imposing such harsh penalties and sanctions on the average working class or disabled person. Methinks the Tories protest too much and, in actual fact, Loach has hit a very raw nerve. Those that work in the DWP may claim that they're only doing their job but really they're just whores of the state that are facilitating nothing less than a fascist regime. "Work Will Set You Free" a slogan that was once used by the Nazi's above the gates of Auschwitz. This is the very ideology of Tory Britain in our current times: Don't have a job? - Tough shit! Poverty on the rise? - Fuck That! Using foodbanks to eat? - Fuck You!... I think you get the gist. Put simply, the lower classes, the sick and the disabled are seen as parasites to a dulled-down, media-controlled society that perpetuates and excuses a fascist government. A government full of toffs that wouldn't know how to walk without a silver spoon up their arse and are blatantly happy giving tax breaks to corporations and their greedy wee cronies. Social justice has always been a recurring theme throughout Loach's films and here his voice on the matter is ferociously loud and clear. I, Daniel Blake is a scathing indictment on the government and their complete lack of empathy towards its own citizens. As is often the case, his films capture a raw authenticity. There's a stark reality to this that almost feels like a documentary. He has a real ability to focus on everyday people living in everyday situations. Even if you left aside the political commentary, you'd still find that Loach has crafted a genuinely touching human drama. Ultimately, this is a story about dignity, self-respect and injustice. The film is anchored by two excellent central performances; normally known for stand-up comedy, Dave Johns as the titular character delivers solid work in his film debut but it's Hayley Squires as the single mother of two who finds herself in some devastating circumstances that truly captures your heart. For all it's unapologetic candidness, however, it also has a surprising amount of humour. To manage this, with such a bleak subject matter, only reaffirms Loach's ability to capture every aspect of life. Despite the hardships and the barbarism that people face on the lower echelons of society, there's is still a humanity that shines through. Loach has always championed the browbeaten, lower classes and his work in I, Daniel Blake (at the age of 80) shows that the fire in his soul hasn't wained a bit. Like Daniel Blake himself, he's a true voice for inequality and the dispossessed. For an understanding of how cruel our government and society has fast become, this is essential viewing. Mark Walker
Mark Walker
Super Reviewer
Far and away the best and most important film of recent times, this depicts life in the first world, when you are put into the welfare machine, and if it spits you out you will be on the street. It is about human dignity, and how we are degraded, both those of us who have nothing, and the ones who put them there. Nor need you worry about whether you'll be entertained. Dan and his friends are good to watch; they are interesting, funny and sympathetic, and they have the wonderful quality of self respect; their opponents are tragic and all too realistic. The film is a first class product, flawlessly put together and acted, and directed by the master Loach with flowing, consummate ease. Calling it the greatest film means that I would confidently put it up against any other including those I haven't seen. Forget your news feed and watch this, otherwise your FOMO will become reality, because this is about the main game.
I, Daniel Blake Quotes
There are no approved quotes yet for this movie.