I don't feel at home in this world anymore.
(2017)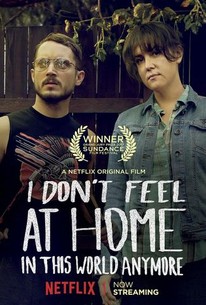 TOMATOMETER
AUDIENCE SCORE
Critic Consensus: I don't feel at home in this world anymore. transcends its unwieldy title to offer timely, intoxicatingly dark observations on gender dynamics and social norms in modern America.
I don't feel at home in this world anymore. Videos
I don't feel at home in this world anymore. Photos
Movie Info
Fed up with the human indecency she sees around her and set off by her home being burglarized, Ruth (Melanie Lynskey) teams up with her martial arts-crazed neighbor (Elijah Wood) to exact vengeance. However, the duo soon finds themselves deep into a world they know little about. Macon Blair directed this crime thriller.
News & Interviews for I don't feel at home in this world anymore.
Critic Reviews for I don't feel at home in this world anymore.
Audience Reviews for I don't feel at home in this world anymore.
½
Dark and interesting film from Macon Blair who shines as a filmmaker to watch. The film is exactly why Netflix should be stiicking to the indie niche market, this is a film that would struggle to find an audience in the mainstream market. I enjoyed the storyline and the characters, they are far from the one dimensional type. Lynskey is the key to the films success, she doesn't have that glamour Hollywood fake persona and she dives head first into a film with layered depth. Wood is relegated to a mere support role but this is another solid performance and he creates so much with so little. That finale is confronting and suits the level of craziness that is building up from the initial robbery. 03/11/2018.
Brendan O'Connor
Super Reviewer
½
The film is not only one tiny step away from being laugh-out-loud funny but also wastes too much unnecessary time focusing on the robbers, but even so it works quite well as it grows from being a quirky indie little comedy into something unexpectedly explosive in the end.
Carlos Magalhães
Super Reviewer
Netflix has done nothing but find itself on the uphill throughout the past few years. Recently gaining the rights to a long-awaited Martin Scorsese picture, there is no sight of them slowing down anytime soon. Not only are they providing the majority of the most talked about television shows on the planet, but they have recently had quite a few releases in their library of feature films. One of their latest (which was also an indie darling at festivals), I Don't Feel at Home in this World Anymore, is definitely one worth talking about. There are films out there that are just downright bizarre, and then there are films like this who have bizarre things happen throughout it, making an average story much more interesting. Although messy, here is why I believe it deserves your time. Whether you are talking about Riggs and Murtaugh in Lethal Weapon or Angel and Butterman in Hot Fuzz, the number of times that a buddy film is released each year will be endless. Having Elijah Wood team-up with Melanie Lynskey is however a whole new level of strange. Following Ruth, a lonely woman who has her home invaded and robbed, she very quickly chooses to hunt down the people who did this. Gaining the help from an odd man who walks his dog past her house on a daily basis, this film very quickly transforms into a buddy film of sorts. Sprinkled with some dark comedy and some very exciting sequences, I Don't Feel at Home in this World Anymore was much more enjoyable than I was expecting. Elijah Wood is no stranger to cinema, having starred as Frodo Baggins in the Lord of the Rings trilogy, but ever since his fame throughout those films, his career has taken a huge dive into the independent realm. Usually actors have been found in independent films, launching themselves into Hollywood fame. In the case of Elijah Wood, it's the exact opposite. Having decided to do much smaller and more personal stories, his career has become more subdued, which I can do nothing but commend. His portrayal of this weirdo, kung-fu obsessed man is an absolute blast to see on-screen, although his character really doesn't fit the tone of the overall film in my opinion. That being said, he is the best part of the film. While I won't go as far as to say that the core character of this film (Ruth) is particularly that of the one in Joseph Campbell's A Hero's Journey, I will say there are certainly some elements present. From being a loner, to just wanting to retrieve what was stolen from her, to being able to hold a gun and defend herself, her arc can become pretty outrageous. Melanie Lynskey gives a very believable performance here and that is truly what held my interest. If the performances throughout this film didn't feel sincere, I wouldn't have found myself enjoying this premise very much, due to the fact that it becomes completely insane by the end of the third act. In the end, at just over 90 minutes, this film should feel like a breeze, but it really feels just as tedious as its ridiculous title. Having a pretty intriguing premise and characters that hold your interest the entire duration, I can say that I had a good time watching I Don't Feel at Home in this World Anymore, but I really don't think there is enough meat to this story as a whole. The writing is solid, the direction is commendable for such a low budget, and the character arcs are pretty well flesh out, but I was left hoping for a little more when the credits began to roll. I can't ever see myself revisiting this film, due to how outrageous and forgettable the ending is, but it's nice for a one-time viewing experience. Overall, it's definitely not a must see, but you probably won't regret watching it.
I don't feel at home in this world anymore. Quotes
There are no approved quotes yet for this movie.