I Drink Your Blood
(1971)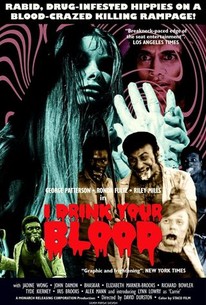 AUDIENCE SCORE
Critic Consensus: No consensus yet.
I Drink Your Blood Photos
Movie Info
Satanic hippies put LSD in an old man's drink on a lark. The old guy's grandson takes revenge by feeding the hippies meat pies, with a secret ingredient: rabid canine blood. The flower children turn into flesh-eating monsters, spreading the disease to their victims.
Critic Reviews for I Drink Your Blood
All Critics (4) | Fresh (3) | Rotten (1) | DVD (1)
David Durston's blast of undiluted grindhouse surrealism always has a handful of jokes up in the air
Before it's all over, I Drink Your Blood has turned into a decidedly stupider version of Romero's Night of the Living Dead, but the thing whizzes along like a really bad hit of acid.
it comes as a surprise when you first realize that I Drink Your Blood is not just coherent but fairly inventively plotted
October 2, 2004 | Rating: 3/5
Audience Reviews for I Drink Your Blood
I'm a sucker for cheesy exploitation films such as this. I Drink Your Blood maybe a bad film in terms of cinematic merit, but in terms of drive-in horror it is a flawless treat that will appeal to the most demented horror fans. I Drink Your Blood is a memorable horror film. There are no real good performances, and I Drink Your Blood is designed to shock and disturb and it most certainly does that. The film is pure 70's sleaze and it is very entertaining, despite the fact that it's imperfect. I thought that the film was great because of such aspects. I Drink Your Blood has been described as a crappier version of Romero's classic, Night of the Living Dead. The film succeeds at being a great Grindhouse exploitation horror flick, and fans of such films should check this one out; you won't be disappointed. I Drink Your Blood is a must see horror film, and frankly even if it's trash cinema, it's trash cinema at its very best. This was the first film to garner the dreaded X rating. I Drink Your Blood is a terrifying, crazy film. The films premise may be silly, but the end result is a memorable forgotten trashy gem of early 70's exploitation cinema. If you love these types of films check it out, and let the mayhem begin.
Just all kinds of crazy, an unforgettable cannibal experience. This is done in such an effective way that you really don't expect a rabies virus by watching the first 30 minutes. It just depicts a group of hippies taking over an abandoned house. However, once they get screwed over by a pesky child who poisons their pies, the group becomes a pack of wolves out for blood. Full of be-headings, camp, gore and violence; this is exactly what you'd want in a cannibal exploitation flick.
Conner Rainwater
Super Reviewer
A group of Satanist hippies roll into a small quiet town and ruffle a few feathers of the locals, since they attacked one of their girls. So the girl's grandfather tries to set things straight with them, but they forcefully make him swallow a LSD cocktail. Wanting revenge for what they had done to his grandfather, a young boy feeds them pies, which have been injected with rabies from a dead dog. Slowly they start to feel the effects and they turn into homicidal maniacs hell-bent on destroying or contaminating anything that crosses their path. Rabies and hippies, who show their faith in the dark lord. What a freak out! Now, there's no doubts this cheesy delight is wild 'n' wacky fun for the undemanding and was one of the first films to be influenced by Romero's "Night of Living Dead". This memorably sleazy and in bad-taste drive-in, exploitation flick scrapes the bottom of the barrel in the budget restraints, but despite that, it's surprisingly competent. It doesn't stop the sheer flow of comic entertainment, and might I add, this foaming madness is damn hilarious. After eating the very yummy looking pies that the smart little fella messed around with, you'll get a kick out of how the eccentric bunch transform into feral beings and basically going spas, leaving some very nasty splatter behind. The scenes involving water being splashed about is incredibly rib tickling. The acting is extremely fruity at times, but I thought that it was more than acceptable for this sort of film. George Patterson and Bhaskar Roy Chowdhury were a riot as some of the hippies. Also Lynn Lowry appears in the group. Jack Damon and Elizabeth Marner-Brooks play the more steady heads of the town and they're fine in their roles. While, it might be funny, it still does offer up some nail-biting tension, brisk pacing and one or two decent surprises amongst this enjoyably (and sometimes quite) original idea. But oh my, wait to you get your head around the spotty experimental score with its array of funky and otherworldly sounds. The story and fluffy script might leave some loose ends left untied, but the score, sure definitely doesn't. Simply put, this hocus-pocus was compellingly, dumb and scummy fun that has one real cruel edge to it! Well-deserving of its cult status.
Cassandra Maples
Super Reviewer
I Drink Your Blood Quotes
There are no approved quotes yet for this movie.