I Found Stella Parish
(1935)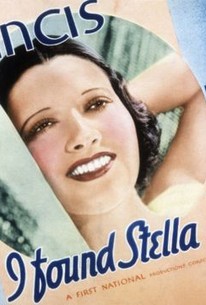 AUDIENCE SCORE
Critic Consensus: No consensus yet.
Movie Info
Kay Francis stars as Stella Parish, a London stage favorite who suddenly disappears without a trace. British news correspondent Keith Lockridge (Ian Hunter) girdles the globe in search of Stella, who has left her beloved daughter Gloria (Sybil Jason) in the care of an aunt (Jessie Ralph). Finally locating his quarry, Lockridge learns that Stella dropped from view to hide the fact that she once served a jail sentence as an accessory to murder. He promises to kill the story for Gloria's sake, but his dispatch is inadvertently published away, forcing Stella into a tawdry career as a "freak" stage attraction (not unlike Evelyn Nesbit Shaw). After hitting rock-bottom in a burlesque show, Stella is rescued by her old director Stephan Norman (Paul Lukas), who invites her to revive the show she was starring in at the time of her disappearance. Little does she know that this comeback has been arranged by Lockridge, who hopes to atone for betraying her trust. All roads lead to a tear-stained reunion between Stella and her daughter, a denouement as inevitable as death and taxes. For years, it was believed that Errol Flynn played an unbilled bit in I Found Stella Parish, but a researcher in the late 1960s discovered that the Flynn look-alike was actually Francis X. Bushman Jr.
Critic Reviews for I Found Stella Parish
Audience Reviews for I Found Stella Parish
Super melodramatic sudser with Kay suffering and suffering and suffering and the audience suspending disbelief. If you can do that you'll enjoy this exercise in excess. Kay is as usual dressed in high fashion throughout.
I Found Stella Parish Quotes
There are no approved quotes yet for this movie.