I, Frankenstein
(2014)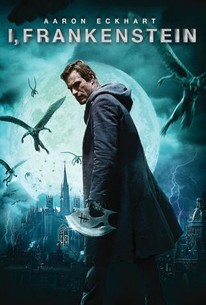 TOMATOMETER
AUDIENCE SCORE
Critic Consensus: Loud, incoherent, and dramatically listless, I, Frankenstein is a remarkably dull fantasy adventure that fails to generate much excitement or interest in its characters.
Movie Info
Set in a dystopic present where vigilant gargoyles and ferocious demons rage in a battle for ultimate power, Victor Frankenstein's creation Adam (Aaron Eckhart) finds himself caught in the middle as both sides race to discover the secret to his immortality. From the creators of the hit supernatural saga, UNDERWORLD, comes the action thriller I, FRANKENSTEIN, written for the screen and directed by Stuart Beattie based on the graphic novel "I, Frankenstein" by Kevin Grevioux, and brought to life by a cast that includes Aaron Eckhart, Bill Nighy, Yvonne Strahovski, Miranda Otto, Jai Courtney, Socratis Otto, Mahesh Jadu, Caitlin Stasey and Aden Young as Victor Frankenstein. (c) Lionsgate
News & Interviews for I, Frankenstein
Critic Reviews for I, Frankenstein
Audience Reviews for I, Frankenstein
½
Why wouldn't Frankenstein's monster (henceforth referred to as Adam) be the focal point in a war between heaven and hell? And why wouldn't the angels really be gargoyles and live in cathedrals? And why wouldn't the demons be trying to get their demony hands on Dr. F's book on reviving the dead? And why wouldn't we jump ahead 200 years to modern-day, where "Adam" should be a rotted corpse? Transparently an attempt to replicate the surprisingly enduring Underworld franchise, this secret supernatural war is a lame monster movie disguised as a lamer superhero film. It's also absurdly idiotic in just about every capacity, as if no department had any communication with one another. Aaron Eckhart grumbles and trudges his way through this awful mess but you can feel his disdain for the entire enterprise. It's not even deliciously campy, choosing to try and re-envision the classic monster in a modern and realistic setting. The action sequences are mundane when they're not incoherent. I, Frankenstein feels like a movie version based upon the video game of some other source material. It's loud and inept and campy but mostly outrageously dumb. I can't wait to watch someone else in Hollywood recycle this cheap plot setup for a desperate supernatural franchise ("Okay, the Creature from the Black Lagoon finds itself in the center of a war between centaurs and..."). When people talk about the dregs of Hollywood, and the echo chamber of stripping away creativity, let I, Frankenstein be a prime example of the worst of us. Nate's Grade: D
Nate Zoebl
Super Reviewer
Stuart Beattie creates a monster of a film, based off of a monster. I, Frankenstein leaves nothing on the table, but the problem is that it doesn't put anything on it beforehand. The story is just over 80 minutes, which is a good thing because plot details are light and simple, yet enough to get the film from opening to closing credits. Loaded with CG, the battles between gargoyles and demons are tolerable, thanks to a great concept of descending and ascending deaths. The choreography for some brief one on one duels also has potential. Showcasing a noticeable cast, there are no standout performances to report. Aaron Eckhart, Bill Nighy, Yvonne Strahovski, and Miranda Otto perform as expected. In other words, they keep the film from falling to the floor. I, Frankenstein takes itself too seriously and is too soft for its own good. A more mature rating and some dark humor is needed to make this a recommendation.
This movie is downright horrible. I love, LOVE all the original Universal monster movies. Dracula, Mummy, Wolfman, Creature from the Black Lagoon, and especially Frankenstein. I'm always a big Aaron Eckhart fan("Thank You for, Smoking" is amazing!"), so this was a can't miss, right? Well it misses on everything. It looks cheesy and cheap as hell. Eckhart is very miscast. There is zero humor here, which if they would have added some light touches it could have made all the difference. Instead Eckhart plays Frankenstein's monster as a brooding model with no personality. I watched it on 3D blu ray and the 3D didn't make a lick of difference. This movie is just horrible. It's a notch about a Saturday night movie on SyFy channel, but not nearly as entertaining.
Everett Johnson
Super Reviewer
I, Frankenstein Quotes
| | |
| --- | --- |
| Adam: | Remember, I have no soul. |
| Naberius: | You have soul. |
| | |
| --- | --- |
| Adam: | I, descender of the demon horde. I, my father's son. I... Frankenstein. |
| | |
| --- | --- |
| Adam: | We do not ask for the lives we are given, but each of us has the right to defend that life. |
| | |
| --- | --- |
| Adam: | I'm a monster |
| Adam: | I'm a monster. |
| Terra: | You're a monster only if you behave like one |
| Terra: | You're a monster only if you behave like one. |