I Hate Luv Storys
(2010)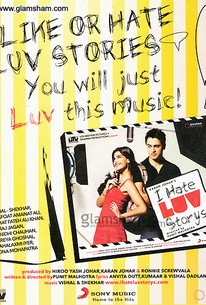 AUDIENCE SCORE
Critic Consensus: No consensus yet.
Movie Info
'I Hate Luv Storys' is the maxim Jay lives by. But as an assistant director to Veer, the most famous romantic filmmaker ofIndian Film Industry, Jay has little option but to live with larger than life, glossy, cinematic love on an everyday basis. Things only get worse when he is made to work under the new production designer on the film Simran, with whom he shares the strangestfirst encounter! Simran loves luv storys So much so that even her life has begun to resemble one. With her ideal job and the perfect boyfriend, Raj, she lives a blissful, dreamy life One that is rudely interrupted by Jay's cynicism. The turmoil's of Jay and Simran's life, is ironically interweaved with the Luv Story that they are working on. But will Jay and Simran ever find their own Luv Story???
Critic Reviews for I Hate Luv Storys
All Critics (3) | Top Critics (1) | Fresh (1) | Rotten (2)

Coupling the humdrum plot with bad editing, unnecessary and confusing voice-overs, repetitive dialogue, and truly cheesy plugs by the producers for their past films, I Hate Luv Storys can't even be classified as one of the better Bollywood romances.
Audience Reviews for I Hate Luv Storys
An interesting, and hilarious movie! Jay is an inspiring young film assistant who dreams of making his own movies someday. Although he's highly cynical about love especially romantic films, he needs the film experience and will take whatever work project he can get. Constantly clashing with the director, Jay becomes a costume and set designer's assistant. It is on the film set that Jay meets Simran, the costume and set designer, and the two are at ends. As they spend more time, and get to know each other, the two become friends. Soon after, Simran has fallen in love with Jay despite having a fiancé. Jay doesn't share her feelings, and lets her down. This makes Simran feel like a fool, so she loses herself in her work to try to forget Jay. As the film project draws to a finish, Jay realizes that he not only misses Simran's company but that he is in love with her too. Sonam Kapoor, Imran Khan, and Sammir Dattani stars. Worthy!
I dont know why this movie got so many bad reviews. The story is funny, and sweet. The characters are obvious, and so is the ending, but the writing had an unusual perspective. The actors were nice to watch, also, especially that Imran Khan...what a cutie!! I'm not into all Bollywood stories, but I really enjoyed this one.
Cynthia S.
Super Reviewer
I Hate Luv Storys Quotes
There are no approved quotes yet for this movie.