I Hope They Serve Beer in Hell
(2009)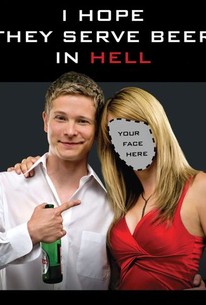 TOMATOMETER
AUDIENCE SCORE
Critic Consensus: I Hope They Serve Beer in Hell fails in its attempts at raunchy humor, and Tucker Max comes across so unlikable and outrageous that the film's inevitable story arc feels forced.
I Hope They Serve Beer in Hell Photos
Movie Info
Earning the type of divisive emotional responses normally reserved for those on the far right or the far left of the political spectrum, writer Tucker Max celebrated his debauchery-driven lifestyle in the memoir I Hope They Serve Beer in Hell. Now Max earns credit as both co-screenwriter and producer of the film adaptation with this comedy from Niagara Niagara director Bob Gosse. In the film, Tucker (Gilmore Girls' Matt Czuchry) behaves very badly at his friend's bachelor party, getting his invite to the nuptials revoked. Can he renounce his (not-so) inner selfish jerk in time to recapture his invitation? I Hope They Serve Beer in Hell also stars Geoff Stults, Jesse Bradford, and Traci Lords. ~ Kimber Myers, Rovi
News & Interviews for I Hope They Serve Beer in Hell
Critic Reviews for I Hope They Serve Beer in Hell
Audience Reviews for I Hope They Serve Beer in Hell
½
In "I Hope They Serve Beer in Hell," it is surprising that Tucker Max(Matt Czuchry, of television shows infinitely better than this) can study in law school when he is constantly either thinking about sex or acting on those urges, like the night before when his tryst with a deaf woman(Yvette Yates) was interrupted by the police for being too loud. So, he is definitely the right person to schedule the bachelor party for his pal Don(Geoff Stults). The local no touching rule complicates matters by forcing them to go a couple of hours out of their way, even if Don has to lie to his fiancee, Kristy(Keri Lynn Pratt), about this road trip. And hopefully it will cheer up Drew(Jesse Bradford) who has been morose and angry ever since he caught his girlfriend giving head. See, I have a soft spot in my heart for rogues which is what drew me to "I Hope They Serve Beer in Hell" in the first place but shortly came to regret my decision. While the movie is certainly worthless, it was not quite reprehensible enough for me to fumigate my DVD player. The filmmakers think these men are likable and their antics funny but they are anything but, especially in the insults aimed at women. As much as they may want to deny it, there is very little difference between sexism and misogyny as Tucker takes objectifying women to new lows in seeking to zero out his purity test score. Even then, the movie has a sentimental finale, after the requisite gross-out gags.
½
This is really a poor man's "Hangover". I really wanted to like it, and I did like some about it, but overall was letdown. The two biggest problems I had with the movie were the characters and it ran too long. The thing about movies like the "Hangover" that make them great are the characters. You get emotionally invested in them, and have a true affection for them. Here, I didn't care about any of the guys. Tucker was a douche, Drew was whiny, and Dan was just there. Most everything Drew said tried to be funny, but really came out stupid, and I was left thinking "Why in the hell did he say that? It makes absolutely no sense." As far as Tucker, what is there to like about him? I mean he has a couple funny moments, but the movie is about him, he should be somewhat likable. Instead he's a tool, and like Drew just has some really ignorant lines. The movie is almost two hours, and could have easily been a half hour shorter. Cut out half the horrible dialogue and it may have been a good movie. Instead it's a big waste of time. I'm all for R rated comedies and guy humor, but this was more douche bag humor(not saying I'm not a douche bag). Just watch the "Hangover" movies or "Van Wilder" instead, because why settle for a lousy cheap imitation?
Everett Johnson
Super Reviewer
I'm a big Tucker Max fan, and I read his book religiously. This film is based on Max's heralded, cult classic, best-selling book I Hope They Serve Beer In Hell. The book is nothing more than a collaboration of short stories about random nights out drinking with his buddies and having sex with random women. His stories, in essence even if they are fabricated or exaggerated as some have claimed, are pure comedic gold. His savvy charm and his sparkling wit makes every guy want to be him and every girl want to be with him. Through his book of course, a portrait is painted of Tucker Max that renders him endearing despite his self-indulgent, chauvinistic demeanor. This majestic dickhead, so to speak, would be awfully hard to pull off on the big screen. This daunting duty went to a no-namer Matt Czuchry, who actually pulled off a very convincing funny heartless bastard; but however, he failed to be likable in anyway possible.
Another aspect of this film that drew hesitation from me would be the script itself. The book doesn't flow like your typical story... it's just a collaboration of Tucker's random nights out on the town, there's no real story arc. So of course what we get is a very linear, predictable, over-hashed bachelor party storyline. Tucker Max himself wrote the script, and even deemed it far better than comedic powerhouses The Hangover and Wedding Crashers. Hopefully the enormous belly flop this film took humbled our author a little... but probably not.
Loyal fans of the book, like myself, will recognize a lot of his stories in the plot. It's also undeniable to admit that Tucker's cruel sense of humor is actually funny. However, the film fails to capture the comedic brilliance of the book, but Tucker's followers will still be pleased. It's a good, mindless laugh.
I Hope They Serve Beer in Hell Quotes
| | |
| --- | --- |
| Tucker Max: | hey, who knew blow-jobs are good for sore-throats right? |
| Tucker Max: | Hey, who knew blowjobs were good for sore throats, right? |