I Kill Giants
(2018)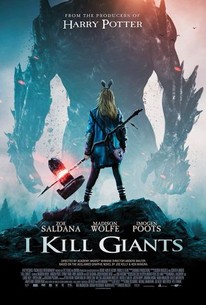 TOMATOMETER
AUDIENCE SCORE
Critic Consensus: I Kill Giants' moody magical realism sometimes slips into the mundane, but impressive CGI and a powerhouse performance by Madison Wolfe pack an unexpected punch.
Movie Info
An oddball girl named Barbara Thorson regularly brings a Norse warhammer to her middle school, and has a detailed imaginary life in which she is a skilled giant killer. However, her flights of fantasy might be an attempt to cope with troubles at home.
News & Interviews for I Kill Giants
Critic Reviews for I Kill Giants
Audience Reviews for I Kill Giants
½
Thematically related to "The Fisher King" this teenage drama also has to live with the comparison to "A Monster calls", a fight it actually wins. There are times when the little heroine is borderline annoying, but then we are suddenly sucked into this story and start to wonder what her deal is. This makes for a fascinating story, presented by great (child) actors, decent special effects and a very beautiful scenery. while some may guess one of the two little twists there, the other is the much bigger surprise. And The ending is particularly touching. Well done.
Based off the acclaimed graphic novel, 'I Kill Giants' is foremost an urban adult fairy tale about a young girl who chooses to live in her own fantasies to avoid the real fear she refuses to acknowledge. Much like last year's 'A Monster Calls' it focuses on very similar themes of inevitable loss whilst using a young child's imagination/fantasy as a navigation to understand the greater meaning of what their life should be about especially in relation to what they'll have to accept. While the deeper themes are core to the story, it's the technical elements that especially play out well, creating a type of believable fantasy full of weird monsters and magic. Not to mention the robust direction given to a mundane setting with a whole colorful cast of characters that provide excellent talent to the performances they deliver on a powerhouse and deeply human level that'll hit the audiences where it's targeted. Largely recommended due to the fact not everyone will get this film until the finally see it, as it's really heartfelt as its wonderfully, directed, performed, scripted fantastical all rolled into one.
Luke Eberhardt
Super Reviewer
½
I'm not usually in this position, but upon discovery of this trailer quite a few months ago, I was desperately awaiting the chance to see this movie. The concept itself intrigued me, but I had no idea that a novel was made of the same name. This is a property that quite honestly came out of nowhere to me. For these reasons, I looked at this as more of a fresh film concept, rather than an adaptation, but I feel that many viewers will feel the same as I do when thinking about the fact that it was a novel when watching the movie. Very ambitious in its storytelling and not afraid to show certain visual effects on a very low budget, here's why I Kill Giants is the type of movie that promises a lot but doesn't quite live up to those promises. Following young Barbara as she meets a new friend and continues to be bullied and made fun of in school for believing in giants, I Kill Giants is really just about whether or not they really do exist in this world. There is a much deeper meaning as to why she believes they exist, but I won't risk ruining the movie for anyone by diving into this aspect. Although a little stereotypical when it comes to their dialogue, everyone felt authentic to reality in terms of how their characters were written. Sadly, that positive is also a negative, because as I said, almost every secondary character feels shortchanged in terms of screen time and their overall characters are given just enough dialogue to show the type of people they are. This left much to be desired. Another thing that bothers me is that this premise is meant for a much larger scale in order to witness something grand when the movie calls for it. The fact that this is a low budget movie actually ruined certain aspects because it was clear that they were relying on Madison Wolfe's (Barbara) performance to distract you from not having to see what she's looking at. That being said, she is a terrific young actress and I was sucked into every emotional scene that she performed. I can't wait to see what she does next because I will absolutely support this actress in her future endeavors. I may seem to be talking about what aspects disappointed me quite a bit, but don't let that turn you off from watching this movie. Yes, the first act of the film rushes everyone's introduction and the second act feels rushed in order to make it to the climax, but that's where I just have to recommend this movie. The meaning behind everything brought tears to my eyes, so I have to commend the movie for pulling certain things off on an emotional level. It just disappointed me that everything leading up to certain reveals wasn't given enough attention and just felt forced as a result. In the end, the concept of this film is fantastic and could've been an amazing film with a bigger budget and a slightly different tone. I give the movie props for trying to pull off certain imagery with such a low budget and many of the performances were great as well. I particularly enjoyed Barbara's interaction with her guidance counsellor Mrs. Mollé, played very well by Zoe Saldana. The third act of this movie makes it worth watching for sure, so yes, I would recommend this movie to film fans, but I just have to warn you that you may see certain things coming, because certain things are sort of spoon-fed to you throughout the second act in order to make time for reveals. I Kill Giants is an impressive concept with a very uneven execution.
I Kill Giants Quotes
There are no approved quotes yet for this movie.