I Killed My Mother
(2013)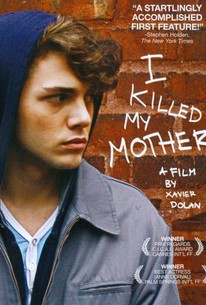 I Killed My Mother Photos
Movie Info
Hubert Minel, a brash 17 year old, dislikes his mother intensely. He gauges her with contempt, only seeing her out-of-date sweater, her kitschy décor and the vile bread crumbs that lodge in the corners of her noisy mouth. Below the surface of these irritating traits, lie the ingrained mechanisms that his mother has always cultivated so dearly - manipulation and guilt. Hubert, confused and torn by a love-hate relationship that obsesses him more and more each day, wanders in and out of an adolescence that is both marginal an typical, combining artistic discovery, openness to friendship, ostracism, and sex. All the while, he is consumed by his all encompassing contempt for this woman he somehow once loved. -- (C) Regent
Critic Reviews for I Killed My Mother
Audience Reviews for I Killed My Mother
Xavier Dolan is a really talented, promising young director, and his filmmaking debut is this sensitive and engaging approach to a semi-autobiographical subject, a story that balances subtle humor and compelling drama in a more than satisfying way.
Carlos Magalhães
Super Reviewer
No, Hubert Minel(Xavier Dolan, who also wrote and directed) did not kill his mother, Chantale Lemming(Anne Dorval). That was something he wrote for a high school writing assignment. That does not make her any happier when she finds out, though. However, after things calm down, which is a relative state for this normally bickering pair, she offers to let him get his own apartment at the age of 16. But once he does find an apartment very much to his liking, she reneges on the deal. "I Killed My Mother" is a movie about communication between two people who have trouble expressing themselves to each other. As far as Hubert goes, he is at an age when he is just starting to define who he is and who he wants to be and does not feel supported by his mother. As far as Xavier Dolan goes, he shows promise as a director, especially in his use of two-shots. But ironically enough he has trouble communicating with the audience about his specific point of view. To quote Hubert's teacher(Suzanne Clement), who talks to their mother like this? Which is a question the movie never satisfactorily answers.
A remarkable film from an 19 year old. Insightful and unflinchingly critical. Beautifully shot.
Christian C
Super Reviewer
I Killed My Mother Quotes
There are no approved quotes yet for this movie.