I Know Where I'm Going!
(1947)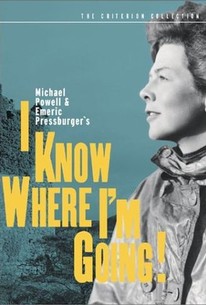 Movie Info
While awaiting access to England's Technicolor cameras for their upcoming super-production Stairway to Heaven, the producer-director team of Michael Powell and Emeric Pressburger dashed off a delightful "personal" project, I Know Where I'm Going. Young middle-class Englishwoman Joan Webster (Wendy Hiller) is determined to have the finer things in life, and to that end she plans to marry Sir Robert Bellinger (Norman Shelley), a wealthy, middle-aged industrialist whom she does not love. En route to the Island of Mull, where her future husband resides, Joan is stranded in a colorful Scottish seacoast town. Inclement weather keeps her grounded for a week, during which time she falls in love with young, insouciant naval officer Torquil McNeil (Roger Livesey). Ignoring the dictates of her heart (not to mention common sense), Joan stubbornly insists upon heading out to sea towards her marriage of convenience, but the exigencies of Mother Nature finally convince her that her future resides on the Mainland. A winner all the way, I Know Where I'm Going is full of large and small delights, including a wonderful sense of regional detail and endearing, three-dimensional characterizations (even the mercenary heroine is a likeable character). The film is easily one of the best of the Powell-Pressburger films of the 1940s, and arguably the team's all-time best romantic drama.
Critic Reviews for I Know Where I'm Going!
Audience Reviews for I Know Where I'm Going!
Scotland and her people are the unbilled background charm of this typical romance that occurs for our heroine while she's invested to marry a millionaire and the life of luxury that money can buy. Its fun that the mid-1940's Britain can seem so exotic while being so familiar.
Kevin M. Williams
Super Reviewer
½
By all accounts and measures, I Know Where I'm Going is an assembly line romantic comedy. If there's any elevation to be found here (which I think there is), it's all due to Pressburger's tight script and Powell's inventive directing. This film is nothing to write home about, but it would have been a lot worse, and a lot less notable if it weren't in the hands of one cinema's greatest filmmaking teams.
Jonathan Hutchings
Super Reviewer
The only reason this unobtrusive film is given a place in the Criterion Collection correlates directly to the involvement of directors Powell and Pressburger. Their films are visually stunning, critically lauded, and have the interpersonal struggles and calculated nuances of a Tennessee Williams play. Still, this daftly titled film can't touch their magnum opus, The Red Shoes. It's a beautifully shot film, even for the black and white format of the time it was made. If the setting wasn't in the Scottish highlands, there wouldn't be anything special about this film. The plot follows gold digging non-descript Joan Webster (Hiller) as she tries to wed an octogenarian businessman who plans the wedding's location for the far off island of Kiloran. Joan becomes trapped on a nearby isle during a gale, where she meets an eagle obsessed countryman, lowly servant Katrina, and a Naval Captain who we all accurately predict she falls for in 40's clichéd fashion. This formula usually works quite well, but the lack of comedy and the Pressburger/Powell styling made this less about a frivolous romantic plot and more about Scottish culture, customs, and traditions. There's even an intensely detailed account of a curse on the Captain, which I must admit had a slight Gaelic charm, but was just another avenue of thought that contributed nothing to the film. It's not quite romance, drama, or comedy, but there is in fact something worth watching for everyone.
Spencer S.
Super Reviewer
I Know Where I'm Going! Quotes
| | |
| --- | --- |
| Torquil MacNeil: | It's a terrible, strong curse |
| Torquil MacNeil: | It's a terrible, strong curse. |