I Love You, Alice B. Toklas
(1968)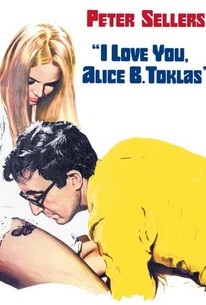 I Love You, Alice B. Toklas Photos
Movie Info
In this comedy, harried Los Angeles attorney Harold Fine wishes to leave behind the hypocritical establishment life. He is being driven crazy by his overbearing parents and henpecked by his demanding fiancee. He quits his job and runs off to join the counter culture as a hippie.
News & Interviews for I Love You, Alice B. Toklas
Critic Reviews for I Love You, Alice B. Toklas
Audience Reviews for I Love You, Alice B. Toklas
Silly artifact of its time even though it seems it was meant to lampoon it. It does that but since what it satirizes is now so outmoded it dates terribly and seems quaint. Sellers is good as are the rest of the main cast but it all rather silly and meaningless now.
I think this must be my favourite Peter Sellers movie, it's really hilarious and very 60s, I really liked it. The story is good, a regular square guy falls in love with a hippie and it changes his life. I liked the ending too, it's good.
½
I Love You, Alice B. Toklas has a feel similar to that of Jacques Tati's "Mon oncle", in the way it looks at contemporary society and social interactions. Peter Sellers plays Harold, a man in his late 30s who seems to have little say in his own life. His longtime girlfriend (Joyce Van Patton) doesn't seem to understand him, or misinterprets what he says. Her only concern is when they will get married and if they will be able to hire the "twin cantors" to perform at the ceremony. Harold's brother, Herbie (David Arkin) is a free-spirited hippy who, as his horrified jewish mother exclaims in one scene, wears "his indian suit to a funeral" (a literal indian suit, replete with a feather in his hair and paint on his face). Herbie's friend Nancy (Leigh Taylor-Young) seems to interest Harold a great deal more, and he brings her home to sleep on the couch one night when she's out on the street. In thanks, she bakes him some "special" brownies and leaves them on his kitchen counter. Later, Harold, his parents and his fiance will all partake of the brownies and get crazy. The pot brownies have a particular effect on Harold as he loses all interest in marrying his fiance and decides to "drop out" and live with Nancy. The film explores the contrast between the hippy lifestyle and square lifestyle with barely a trace of realism. This is pure absurdism. The mexican family who come to see the lawyer Harold about their car accident (a family of ten with braces around all their necks); the fact that the hearse drivers were on strike so they loaded the casket in the back of Harold's loaner hippy jalopy, which then got lost on the way to the funeral, these are examples of the absurdism that goes on in the film. For further examples of such films, check out the aforementioned Mon oncle or even "Le charme discret de la bourgeoisie" (although I didn't enjoy the latter film nearly as much as this).
Devon Bott
Super Reviewer
I Love You, Alice B. Toklas Quotes
There are no approved quotes yet for this movie.