I Love You Too
(2009)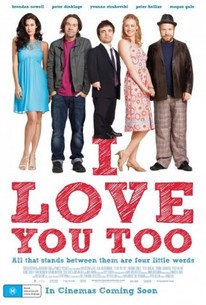 Movie Info
A commitment-phobe and a new age enthusiast join forces to win over the women of their dreams.
Critic Reviews for I Love You Too
Audience Reviews for I Love You Too
½
Comedian Peter Helliar's story of this Aussie romantic-comedy film makes quite refreshing and great funny. The cast is uniformly good. Brendan Cowell and Helliar seem to be playing brash versions of themselves, but import Peter Dinklage is fabulous as grieving Charlie. Megan Gale is also fine in the role of Italian supermodel Francesca Moretti. This may not be too much of a stretch for the model-turned-thespian, but her scenes with Dinklage inject heart which is lacking from much of the rest of the film. The statuesque model meeting with her diminutive admirer is genuinely touching, and their final moments together are beautifully judged. Even though he doesn't seem to realise it, adding to the rich tapestry of Jim's life are those close to him, such as his boss (Steve Bisley) and put-upon sister and landlord, Marie (Bridie Carter). The film has a few genuine laugh-out-loud moments and, despite a few misgivings you may have for Jim and company, you can't help but cheer for everyone involved by the end credits. While steeped in rom-com cliché, the finale is as poignant as they come.
Dean McKenna
Super Reviewer
Turned this off the other day, decided after all to give it one more go before it goes back to Blockbuster. My initial impression stands, it is not the best. I like Brendan Cowell, but I don't think he can really pull off romantic male lead, maybe has a little more substance to him. The guy who played his best friend was just painful - the character, anyhow. This blokey Australian thing just really doesn't do it for me. Maybe because I live here. Story is pretty slight. I have rated it a little higher than it deserves as Australia doesn't produce a lot of rom coms, so extra star for trying, and the cast do their best with not a lot.
Nicki Marie
Super Reviewer
½
Seemingly good natured and charming, "I Love You Too" is a romantic comedy examining the concept of relationships between men, women, and friend.
Movee Critic
Super Reviewer
I Love You Too Quotes
There are no approved quotes yet for this movie.