I Love Your Work
(2005)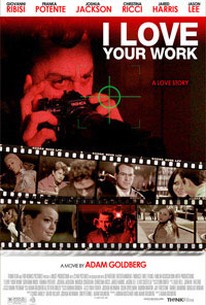 Movie Info
Paranoia and obsession lead a popular young movie star careening down a dark path of self-destruction in this sophomore feature from actor-turned-director Adam Goldberg. Hipster actor Gray Evans (Giovanni Ribisi) is used to the blinding glare of the spotlight, and his volatile relationship with fellow movie star Mia Lang (Franka Potente) provides endless fodder for tabloid speculation among the celebrity-obsessed masses. Yet, despite his fame and wealth, everything is not well with this Hollywood hotshot. To the public Gray's cocksure attitude and Tinseltown swagger project the image of a man confident in his abilities and ready to embrace a bright future, but on the inside Gray is a lost soul full of doubt and teetering on the brink of insanity. Gray's stark but luxurious apartment is quickly filling with pictures of a mysterious woman named Shana (Christina Ricci), and when he suspects that he is being followed by a video clerk and aspiring filmmaker named John (Joshua Jackson), the increasingly delusional star hires a detective to investigate the matter. Assured by the detective that John is in no way a threat to Gray, Gray strikes up a friendship with John based in large part on his strange attraction to John's girlfriend, Jane (Marisa Coughlan). As Gray's infatuation with Shana begins to bleed into his friendship with the star-stricken young couple, the fixation he forms on the pair finds the actor growing increasingly unstable.
Critic Reviews for I Love Your Work
Audience Reviews for I Love Your Work
½
I personally believe this movie is way underrated, I suppose to like a movie of this calibre one needs to have an acquired taste to it. It flies beneath the radar because it tackles I suppose what you could call the 'truth' of the movie business and even the human psyche as a whole. The first time I saw simply the end of it, and it awed me...that I recommended it to Dij but hadn't seen the film in its entirety to earlier today. In this movie we learn of an actor, Gray Evans [Ribsi], who is married to actress, Mia Lang [Potente] and their marriage is suffering terribly. On top of this he finds that he is slowly losing his grips upon reality and the entire story becomes his entire paranoid obsession with a young film student, John Eckhart [Jackson]. This young character seems to remind him of himself before he caught the famous bug and became a completely different person. Various things occur where he tries to mend his relationship with Mia, or when he tries to portray their relationship to the public as completely normal whilst the tabloids proclaim them being 'stormy and tempestuous'. There are some parts in this film that get extremely confusing as it shows how easily his dreams become lucid and although he thinks they are real they just devour him completely. The finale, which I'm not going to share is quite something indeed. An ironic metaphor in itself. What drew me to this film was the dark premise of the story, Franka Potente [who is one of my favourite actresses] and Ribsi, of course. This movie simply shows that Ribsi is quite believable in playing yet another role where one is masquerading as 'normal' person whilst facing turmoils within themselves. Not for everyone, and I've noticed many actually aren't interested at all in this. I find this story quite deep and utterly terrifying.
Bannan instant enigma- just add water
Super Reviewer
½
Good film, kind've weird and a little disturbing though. Great performance by Giovanni Ribisi.
Chosen 718
Super Reviewer
[font=Century Gothic]In "I Love Your Work", Gray(Giovanni Ribisi) apparently has it all. He is a famous movie star, married to a beautiful actress, Mia(Franka Potente), and is also an amateur photographer. But that veneer is starting to crack. His marriage is coming apart at the seams, Elvis Costello is leaving messages and Gray fears he is being stalked. One day, he wanders into the safe haven of a video store where he meets store employee John(Joshua Jackson), a fan, and his girlfriend, Jane(Marisa Coughlan), an artist.[/font] [font=Century Gothic][/font] [font=Century Gothic]"I Love Your Work" is an intriguing movie about the price of fame and being careful what you ask for. But it also serves as a commentary on the symbiotic relationship between the audience and the performers and what each hopes to gain in the bargain.[/font]
I Love Your Work Quotes
There are no approved quotes yet for this movie.