I Married a Monster from Outer Space
(1958)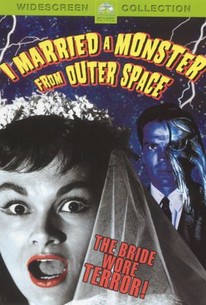 I Married a Monster from Outer Space Photos
Movie Info
Despite its title, this is a well-regarded sci-fi effort from Gene Fowler about an alien race who comes to Earth to repopulate their own planet.
Critic Reviews for I Married a Monster from Outer Space
Audience Reviews for I Married a Monster from Outer Space
like 'the stepford wives' and many others, Gloria talbott is duly concerned when her newly married husband is not nearly as attentive as he was pre-nuptials. does familiarity indeed breed contempt ... or is there another, more sinister, reason??? fun at the drive-in with this forgotten romp in the alien-held woods, as the swamp creatures from another galaxy endeavor, in true 50's style, to impregnate earth women!
Kevin M. Williams
Super Reviewer
OK B-grade flick about a town where all the men are replaced by lookalike aliens. Kinda crappy effects and mediocre performances, but for a movie like this, that's not going to matter that much. A bit like Invasion of the Body Snatchers meets the Stepford Wives. A decent timewaster for a rainy Thursday morning (which is when I saw it.)
Stella Dallas
Super Reviewer
I Married a Monster from Outer Space Quotes
There are no approved quotes yet for this movie.