I, Robot
(2004)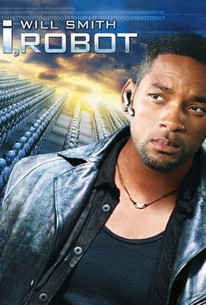 TOMATOMETER
AUDIENCE SCORE
Critic Consensus: Bearing only the slightest resemblance to Isaac Asimov's short stories, I, Robot is still a summer blockbuster that manages to make viewers think -- if only a little.
Movie Info
Director Alex Proyas (Dark City, The Crow) helmed this sci-fi thriller inspired by the stories in Isaac Asimov's nine-story anthology of the same name. In the future presented in the film, humans have become exceedingly dependent on robots in their everyday lives. Robots have become more and more advanced, but each one is preprogrammed to always obey humans and to, under no circumstances, ever harm a human. So, when a scientist turns up dead and a humanoid robot is the main suspect, the world is left to wonder if they are as safe around their electronic servants as previously thought. Will Smith stars as Del Spooner, the robot-hating Chicago cop assigned to the murder investigation. Bridget Moynahan, Bruce Greenwood, James Cromwell, and Chi McBride also star. ~ Matthew Tobey, Rovi
Critic Reviews for I, Robot
Audience Reviews for I, Robot
½
When a prominent robotic scientist seemingly commits suicide, robot-hating detective Will Smith suspects that one of his creations is the true culprit. Well, it's a Hollywood blockbuster, so you will have to tolerate Will Smith doing his usual pec flexing, wisecracking schtick, Bridget Moynahan trying too hard to breathe life into her under-written eye candy role, and some frankly shameless product placement. However this is definitely an above par example because the script actually does not do the original Asimov stories a disservice and captures their spirit quite well; the character of Sonny played by Alan Tudyk is probably the most likeable and arguably best acted in the film and there are some pretty (if not entirely convincing) SFX. It is marred by some unnecessary visual bullshit during some cumbersome action set pieces and green screen is overly pervasive, but Smith has made a career out of being impossible to dislike and the twist to the story is actually quite clever. Although totally lacking in subtlety in the way most Hollywood blockbusters do, I, Robot definitely has its moments and I always enjoy watching a revolution. Despite its flaws, I liked it.
½
So Hollywood took a classic collection of sci-fi literature and turned it into an action packed bullet time fest for Will Smith, hmmmmm. I think this film had some incredible promise being based on Asimov's short stories and could of been a classic sci-fi offering in the realms of '2001' or 'Blade Runner' but unfortunately Hollywood decided to stick Smith in the fold as the main character just to get bums on seats in the cinemas. The casting of Smith was really a huge let down for me, a terrible and obvious piece of soulless money spinning simply to make this film into something that would appeal to the younger mass audience. Within the first five minutes of the opening sequence you can see how bad this decision was, we see Smith acting overly masculine as he swaggers about like the film revolves solely around him, his silly looking bobble hat thing which is tipped to the side trying to be cool and trendy, ear studs and a ridiculous outfit combination of black leather pants and a quarter length black leather coat. I mean really, is this a film based on some classic science fiction short stories or just trying to make Will Smith look as slick as possible with a gun, shades and motorbike. Must also point out this film has a small role for the annoying Shia LaBeouf -_- The film does have some very good aspects in terms of effects that can't be denied, sure we have seen it all before and there isn't anything really outstanding on offer in the sense of 'things looking flashy and futuristic' but it all looks very clean smooth and realistic. The addition of the super sleek Audi concept car looked very nice I must admit but did we really need such a blatant advert in the film? the sequences just looked like car adverts, Audi paid for it yes, fine, but was it needed? I did also like the robot designs, the older 'protector' robots looked a bit like something from the 'Star Wars' prequels but the newer 'NS-5' robots were well crafted and do have a realistic believeable look to them. The problems I see with this film, it attempts to compete with classic 'epic' sci-fi films, it tries to be bold and boast a strong plot by constantly referring to the Asimov laws of robotics and using character names from the books as if this will make the film better, serious and closer to the much superior source material. Most of the nine stories by Asimov weren't really action based but simply more about robotic behaviour and mainly how the laws are used to solve problems, simply errors or malfunctions that the robots encounter in their daily routines. This film doesn't follow any of the nine stories I might add, its actually based on another separate story with Asimov's 'I, Robot' notions slapped on top after the rights to the stories were acquired. The only aspect which connects to one of Asimov's stories ('Robbie') is the way Smiths character dislikes robots, the way they replace human jobs and seem to be taking over the world. Smith of course being a black man also gives the chance to turn the tables on the prejudice hot potato with his character basically being completely against robots and their 'kind', he sees them as trouble, not to be trusted, he wants the robots to be trouble so maybe people will all turn against them. A basic angle yes but reasonably intriguing, a more suitable actor like Washington would have been the better choice to carry this across in my opinion. This film is big, flashy with destruction, car chases, bionic arms, guns, over the top fights, an overly stupid ending which does spoil plus allot of over used slow-mo action, much focusing on the robots which looks nice but what's the point of bullet time sequences on fully cgi characters?. Whether or not Asimov would have liked this kind of approach I don't know but I'm sure a slightly more subdued slow intelligent piece of work was more in mind. You do have classic spy novels that have been made into films/TV drama's that aren't filled with all this needless in your face action, at the end of the day this is yet again just another glossy Hollywood action/thriller film which has been thinly veiled with an attempt of serious sci-fi. Yes its a reasonable sci-fi film and better than most other offerings but if you want a film more closely based on an Asimov story then I suggest you watch 'Bicentennial Man'.
Phil Hubbs
Super Reviewer
What bothered me about "I, Robot" was how pretentious it was to have Will Smith as the main character. The humor didn't flow smoothly but the action set-pieces is entertaining. Will Smith is great like always but "I, Robot" is one forgettable movie.
I, Robot Quotes
| | |
| --- | --- |
| V.I.K.I.: | My logic is undeniable. |
| | |
| --- | --- |
| Detective Del Spooner: | You so need to die! |
| | |
| --- | --- |
| Dr. Alfred Lansing: | That, Detective, is the right question. |
| | |
| --- | --- |
| Del Spooner: | [Digging into pie with a spoon] "Mmmm. Sweet potato pie." |
| Del Spooner: | [digging into pie with a spoon] Mmmm. Sweet potato pie. |
| Granny: | "Put that on the plate." |
| Granny: | Put that on the plate. |