I Shot Andy Warhol
(1996)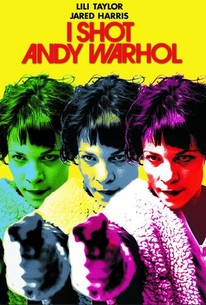 Movie Info
In 1968, flamboyant hedonist and pop-art icon Andy Warhol nearly died after he was shot by radical, lesbian feminist Valerie Solanas and for years her real reasons for the attempted assassination have remained clouded. With this powerful, dramatic portrait, which filmmaker/screenwriter Mary Harron tries to shed light on the troubled Solanas' motivations. Claiming that her portrayal of the events is 95% accurate, Harron has carefully re-created the events, locations and the strange coterie surrounding the influential artist. Officially it's been recorded that Solanas' acted in retaliation after Warhol banned her from his inner sanctum, The Factory, for making trouble. But the real reasons for her bottomless rage soon manifest. Abused as a child, Solanas became a prostitute in high school and also discovered her homosexuality. By college, Solanas was a notorious man-hater. In 1966, Solanas wrote her famed SCUM Manifesto a "revolutionary" tract against all men. It was her dream that her Society for Cutting Up Men would become a major movement, but in the end, Solanas was the only member. She then wrote a play called Up Your Ass. Convinced that only the great Warhol could do the subversive work justice, she finagled a way into the Factory with her transvestite friend Candy Darling -- who would later become one of Warhol's superstars -- and presented the work to the artist. None of the party-goers were particularly interested in the work, but eventually Warhol did allow Solanas to appear in one film I, a Man. Though a regular at Factory gatherings, the aggressive, increasingly radical Solanas became too intense for Warhol's drugged, hedonistic cadre and the artist exiled her from his loft. Thus isolated, Solanas spiraled into an inescapable whirlpool of violent madness.
Critic Reviews for I Shot Andy Warhol
Audience Reviews for I Shot Andy Warhol
½
A shallow, silly film that portrays all its characters, including Andy Warhol, as ditzy airheads. The only real airhead here is Mary Harron, the filmmaker who created this.
William Dunmyer
Super Reviewer
½
Very well done. Really captures the look and feel of (what I would think) that whole "factory period" would have been like. Complete decadence on a totally supercial level. Lili Taylor is brilliant as is the rest of the cast. Don't get me wrong...Solano was completely unstable, but ultimately it's very sad in the sense that most of her "crazy" rantings seem to come true. Self fullfilling prophecy...or perhaps there was a little truth mixed in with her madness?
Would have been okay if I were on acid. Although I love Lili Taylor so she did a fantastic job.
Leigh Ryan
Super Reviewer
I Shot Andy Warhol Quotes
There are no approved quotes yet for this movie.