I Shot Jesse James
(1949)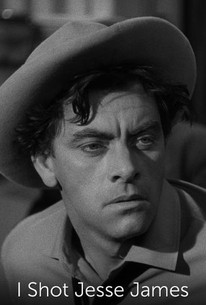 I Shot Jesse James Photos
Movie Info
Stylish western in which Bob Ford, the killer of legendary outlaw Jesse James, who winds up re-enacting the killing as part of a stage show! First film from writer/director Samuel Fuller.
News & Interviews for I Shot Jesse James
Critic Reviews for I Shot Jesse James
Audience Reviews for I Shot Jesse James
As the legendary Samuel Fuller's debut film, "I Shot Jesse James" is a western with Fuller's trademark close-up shots and psychological aspects as well as the use of newspaper pages displaying various events. The film is filled with complete characters, especially John Ireland as Bob Ford who practically steals the film! While It's no secretary who and how Jesse James was killed, the film focuses on the aftermath and ensuing destruction of Bob Ford. There are many different linked characters and subplots but this is about one man's destiny after he betrays his best friend and partner for his own ambitions. I loved the pacing of the film and Fuller's touch, while not on full display, are already seeping in and what eventually garnered the critical acclaim he later would receive. If you're a fan of Fuller, westerns, or even dramas this is a great work done by the gifted Samuel Fuller when he first set out directing and shouldn't be missed!
Chris Browning
Super Reviewer
Sam Fuller has a soft-ish side, who knew? Also the bathtub scene, almost as homo-erotic as Spartacus (almost).
Ken Stachnik
Super Reviewer
½
I Shot Jesse James deals more with the historically questionable exploits (i.e. the love story) of Robert Ford after killing Jesse James (who didn't come off that scary or legendary) than the lead up to the event itself. The brief relationship (in this movie at least) between James and Ford is one of the most homoerotic things I've seen in 40s cinema. The post-James murder seems like it could've been any drama but just happened to have Robert Ford as one of the main characters. Samuel Fuller's direction is the main draw with this one because if you've seen The Assassination of Jesse James any other telling of the story is pretty much ruined for you. I Shot Jesse James isn't a great movie but reasonably groundbreaking for a 40s western.
Michael Gildea
Super Reviewer
I Shot Jesse James Quotes
There are no approved quotes yet for this movie.