I Think I Love My Wife
(2007)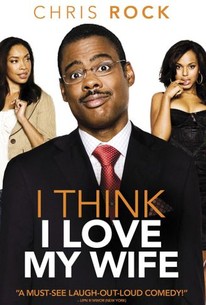 TOMATOMETER
AUDIENCE SCORE
Critic Consensus: Chris Rock's comedic instincts are muted and the female characters are unsatisfactorily drawn in this uneven sex farce/domestic drama mashup.
I Think I Love My Wife Photos
Movie Info
Actor/comedian Chris Rock directs and stars in this American remake of Eric Rohmer' s classic French comedy Chloe in the Afternoon. Richard Cooper (Rock) is a high-powered investment banker with a beautiful wife and two wonderful children. Though on the surface it would appear that Richard could want nothing more out of life, his thoughts always seem to drift toward sex. Whether it's during his daily commute into the city, his endless barrage of meetings, or even his downtime changing diapers at home, Richard's mind is constantly preoccupied by fantasies about the women he sees on the commuter train, on the city streets, and in the boardroom. Richard's daily life has gradually devolved into a blur of mind-numbing banality, and these days sexual fantasy has become his sole means of escaping the constant pressures of work and fatherhood. Though Richard never had any real intention of cheating on his faithful but preoccupied wife Brenda (Gina Torres), a chance run-in with his old friend Nikki (Kerry Washington) -- a drop-dead gorgeous stunner who appears at his office door one day seeking career advice from the successful banker -- finds his steely resolve fast turning flimsy. It's not long before the smitten Richard and the smoldering Nikki are meeting for clandestine lunches, and temptation begins to turn Richard's once-predictable life upside down. As his uncontrollable fantasies begin to lead him down the dangerous path of infidelity, the man who once kept his libido safely in check finds it increasingly difficult to refrain from acting on his impulses.
News & Interviews for I Think I Love My Wife
Critic Reviews for I Think I Love My Wife
Audience Reviews for I Think I Love My Wife
[img]http://images.rottentomatoes.com/images/user/icons/icon13.gif[/img]
Directors Cat
Super Reviewer
Okay movie to watch on tv. Had a few funny moments, mostly I was cringing over how stupid this guy was, while at the same time could understand why he was bored at home. I think this was actually quite an honest film for a comedy. More for an older audience, I don't think those who have not been married or in a long term relationship would get a lot out of it. The actress who plays Nikki is really attractive, you could sort of see how he got sucked in by her. I did almost take half a star off for the horrible singing at the end, however. Totally horrible, and would have been much more effective spoken.
Nicki Marie
Super Reviewer
The film is good for the vast majority. It's a rather mature critique of marriage that suggests perhaps marriage isn't for humans. Rock plays a hard working banker in a sexless marriage. The biggest problem here is his wife. She is neither attractive or friendly. I honestly can't see why Rock is with her. This makes it all the more frustrating when Rock meets Kerry Washington. She is so beautiful no man could resist her, especially in the final scenes. The ending is a real cop-out. It suggests that fidelity is almost a curse, but it's better than our protagonist being happy. The fact that the end realisation comes in the form of a very terrible song (WTF?) just makes it even more painful. Would have liked more from Buscemi's character, a man happily married for 17 years, despite his affairs and flings. Worth it just for Washington.
Luke Baldock
Super Reviewer
I Think I Love My Wife Quotes
There are no approved quotes yet for this movie.