I Walk Alone
(1948)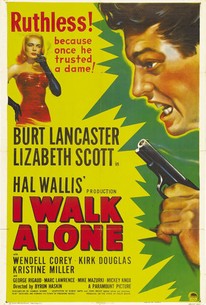 AUDIENCE SCORE
Critic Consensus: No consensus yet.
Movie Info
Set during Prohibition, this crime melodrama tells the tale of two bootleggers and an upscale speakeasy. Rumrunners Kirk Douglas and Burt Lancaster have a thriving business until they find themselves racing up to an enormous police roadblock while running a fresh supply of hooch to their club one night. Realizing that all will be lost if they are both captured, the pair quickly make a pact. One will run on foot while the other drives to the roadblock. The one who successfully escapes is to maintain the club and save half the profits for the other. Unlucky Lancaster gets caught and spends 14 years in prison. He spends most of that time angrily dreaming of revenge and soon after his release, he sets out to get it. By this time, Douglas has turned the nightclub into a lucrative venture. Unfortunately for Lancaster, he is unwilling to share in the profits and quickly sets his accountant to doctoring the books to ensure that the vengeful Lancaster gets nothing. It's a big mistake on Douglas's part, and eventually, after much conniving, double-crossing and even a murder, he gets what's coming to him.
Critic Reviews for I Walk Alone
All Critics (2) | Fresh (2) | Rotten (0)
Now that I come to think of it, the whole melodrama, like [Kristine] Miller, is intolerably chic.
The film is entertaining because of the top-flight cast.
Audience Reviews for I Walk Alone
"I Walk Alone" is an adequate film noir -- nothing too outstanding to make it worth remembering, but nothing so bad that it feels like a waste of time. Carefully plotted but blandly acted, "I Walk Alone" unravels in the same manner as most noirs, twisting and turning upon the actions of each character. Byron Haskin's direction is sufficient enough, but Lizabeth Scott underacts in most of her scenes and Burt Lancaster is either miscast or simply not believable. Kirk Douglas provides a deliciously snake-like performance, but even he cannot overshadow the bad acting of the film's leads. In the end, "I Walk Alone" isn't excellent cinema, but it works well for what it is.
Stephen Earnest
Super Reviewer
½
The actors are better than the script in this conventional noir. The story is a standard double cross scenario but if you're a fan of either Lancaster or Douglas or both this rarely shown drama will offer a glimpse of them at the beginning of their careers and both display the movie star charisma that put them on the map.
I Walk Alone Quotes
There are no approved quotes yet for this movie.