I Walked With a Zombie
(1943)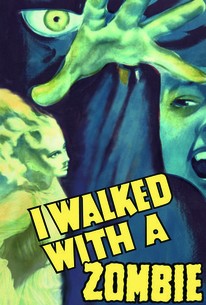 TOMATOMETER
AUDIENCE SCORE
Critic Consensus: Evocative direction by Jacques Tourneur collides with the low-rent production values of exploitateer Val Lewton in I Walked with a Zombie, a sultry sleeper that's simultaneously smarmy, eloquent and fascinating.
I Walked With a Zombie Photos
Movie Info
RKO producer Val Lewton seemed to thrive upon taking the most lurid film titles and coming up with pocket-edition works of art. Saddled with the studio-dictated title I Walked With a Zombie, Lewton, together with scripters Curt Siodmak and Ardel Wray, concocted a West Indies variation on Jane Eyre. Trained nurse (Frances Dee) travels to the tropics to care for Christine Gordon, the wife of seemingly abusive Tom Conway. At first, Dee merely believes her patient to be comatose. But as the drums throb and the natives behave restlessly, Dee tries to bring her patient back to life by jungle magic. Conway is racked with guilt, believing himself responsible for his wife's condition; his guilt is stoked by Conway's drunken brother James Ellison, who has always loved Gordon. Utilizing very limited sets and only a handful of extras, director Jacques Tourneur manages to evoke an impression of an expansive tropical island populated at every turn by voodoo worshippers. Many of the sequences, notably Frances Dee's first languid stroll into the midst of the native ceremonies, have an eerie dream-like quality that pervades even the most worn-out, badly processed TV prints of I Walked With Zombie.
Critic Reviews for I Walked With a Zombie
Audience Reviews for I Walked With a Zombie
½
Although he went on to make much better films, Jacques Tourner's I Walked With a Zombie is not anywhere near a waste of time. There are some genuinely creepy moments (although they're repeated in other Val Lewton productions) and some very lovely cinematography. There's not really much of a plot to speak of and our leading lady has very little to do in the second half of the movie, but there's some good stuff here. Worth a late night viewing.
Tim Salmons
Super Reviewer
I Walked With a Zombie is full of beautiful photography, fantastic set design and stunning direction from Jacques Tourneur. The acting's pretty much what you'd expect from a low-budget 40s horror movie but there's so much more going on that makes up for it. The scene on the way up to the homefourt was fantastic as was the scene that introduced Jessica. Legitimately scary shit. The story kind of scatters a bit by the time you get to the end and a few things were kind of unclear to me but at that point you don't really care. This movie is a moodfest orgy for the eyes.
Michael Gildea
Super Reviewer
Ripe with that subtle eerieness that Lewton and Tourneur have become known for. I like this one a little more every time I see it. It's the kind of film that creeps up on you.
Randy Tippy
Super Reviewer
I Walked With a Zombie Quotes
There are no approved quotes yet for this movie.