I Wanna Hold Your Hand
(1978)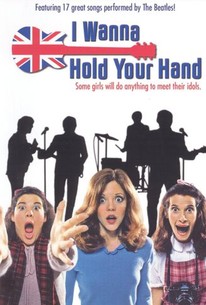 TOMATOMETER
AUDIENCE SCORE
Critic Consensus: Its slapstick humor and familiar plot don't break any new ground, but I Wanna Hold Your Hand succeeds at recapturing the excitement of a pivotal cultural moment.
Movie Info
The time is 1964, and the Beatles, already a hugely popular group, are about to go on the Ed Sullivan Show for the first time, an appearance that launched them into a worldwide phenomenon. Already, girls are fainting during their concerts from sheer excitement at being in the same theater with them. Pam Mitchell (Nancy Allen) is happy enough to be getting married but wants to bed one of the "Fab Four" before she does. Grace Corrigan (Theresa Saldana), a dedicated fan, is certain that if she can get some exclusive photos of the Beatles, her career as a photographer will be secured. And then there are two people who feel that the future of civilization as we know it depends on their efforts to ruin the Beatles' appearance on Ed Sullivan's show. In this madcap comedy, when these people (and others besides) descend on the New York hotel the Beatles are staying in, things begin hopping. This comedy was Robert Zemeckis' first feature. A protégé of Stephen Spielberg, he went on to direct Forrest Gump, Back to the Future, and Who Framed Roger Rabbit? among other popular features.
News & Interviews for I Wanna Hold Your Hand
Critic Reviews for I Wanna Hold Your Hand
Audience Reviews for I Wanna Hold Your Hand
A nostalgic, time-capsuled, comedy favorite!
½
It's the directorial debut of big shot director Robert Zemeckis and is produced by Steven Spielberg, and yet, there's not one single person in this cast who's name is recognizable, or if it is, it was probably attached to something you'd care not to remember. Some people might wanna hold their hands, but they don't want to have to recognize their names. ...Hello, is anyone back from getting lost after I mentioned Robert Zemeckis and Steven Spielberg as if they were two different people yet? Well, when it comes to that, I think the only people we need to worry about getting lost as I try to distinguish the two directors are New Yorkers, because Spielberg is Jewish and Zemeckis is Italian, and in the Big Apple, there's scarce difference. Okay, here's a good way to distinguish them: now-a-days, Spielberg makes consistently good movies, whereas Zemeckis, now-a-days, makes consistently excellent movies. Note that I emphasize "now-a-days", because let me tell you, this film is not among Zemeckis' greats. Don't get me wrong, it's a pretty decent film, yet nothing to write home about, and there are a couple of reasons why. As much as I love Bob Zemeckis, don't go thinking that "Cast Away" was his first experiment with slow storytelling. Of course, if you're thinking that "Cast Away" was his first experiment with storytelling that should be slow, then you're right on the money, particularly when it comes to this film film, because this Beatles-based beat is a slow one indeed, which is to be expected, considering that this was Zemeckis' debut, before he honed his skills. Heck, even David Fincher wasn't killing it dead - as he always does now-a-days - with "Alien 3", and sure enough, this film drifts along, diluting resonance that was already hit pretty hard by limited development and the fact that when it's not slow and quiet, it's so frantic and noisy that really grates into your nerves after a while. This further distances you from the story and characters, and it doesn't help that the story and cast are already lacking in compellingness, because they're even more lacking in originality. From the fanatic fangirl to the satirical, cool, rebel boy that falls into slapstick humor, almost, if not every single character in this cast is a type that we had seen maybe a little too much by 1978, alone. Now, it's not like this film leans closer to being "that" mediocre lost film for Zemeckis than "Death Becomes Her", yet there's little that's top-notch or even terribly upstanding about his film, leaving it forgettable. Oh wait, becoming forgettable is something that would happen to your typical film of this type, which, don't get me wrong, this film doesn't transcend its conventions and flaws, but neither does it collapse under the weight up them, mostly because, even in the beginning, Zemeckis knew how to tell a joke. Now, not all the jokes - particularly the slapstick ones - hit, but the ones that do really charm. As slow as the film is in pacing and resonance, you never fall out, because there's such an unrelenting aura of charm burning off of the screen, thanks almost entirely to Zemeckis' staging of these comedic set pieces. There are sight gags and snappy lines, and even moments where the film actually expresses awareness of its cliched story and characters in a more often than not genuinely effective fashion. This was before the Zemeckis era of dazzling visual effects and awesome, sweeping cinematography, so don't expect that to wake you up through all of the low points in the film, but you can always depend on the humor to keep you going. Of course, a joke means nothing unless someone is telling it, and while I will give plenty of credit to Zemeckis for the humor being so often effective - seeing as plenty of the effective jokes have a feeling that's common with Zemeckis' comedic acting directing -, I've got to say, in the immortal words of the clearly not immortal Jonh Lennon himself, power to the people. The cast is a familiar and sometiems obnoxious one, yet, at the end of the day, they win you over with charisma and their nifty, reasonably authentic embodyment of these products of his or her time, whether they be the raving fan of the pop, the protester of the pop or the guy who fancies himself just too cool for all this pop. The film's 1960s timeline isn't in your face; it's organic, it's charming and leaves you enjoying yourself way more often than not. At the end of the day in the life (Get it, Beatles geeks?), you'll walk away having seen the same-old-same-old, only with less development and more slowness broken up by many obnoxious, if not just plain grating moments of noise, yet what leaves this film to stand its ground is Robert Zemeckis showing off his now notorious comedic skills, as well as the colorful cast of charismatic performers that charmingly recreate 1960s pop culture with subtlety and help make "I Wanna Hold Your Hand" an attention-grabbing debut for the now-great Robert Zemeckis and a generally entertaining film on its own. 2.5/5 - Fair
Cameron Johnson
Super Reviewer
A cute, funny, amusing tale of Beatles fans in the 60s. Also, look for (Back to the Future's) Marty McFly's siblings who both play characters in this movie! I really liked this movie, it's very funny.
I Wanna Hold Your Hand Quotes
There are no approved quotes yet for this movie.