I Want to Live!
(1958)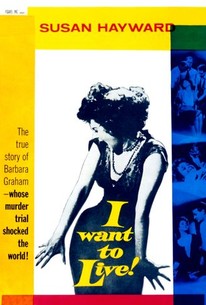 Movie Info
Grim, almost unbearably intense, I Want To Live is the story of the life and execution of Barbara Graham (Susan Hayward) a perjurer, prostitute, liar and drug addict. The product of a broken home, Graham works as a shill, luring gullible men into crooked card games. She attempts to go straight, marries the wrong man, and has a baby. When her life falls apart, she returns to her former profession and is involved in a murder. Despite her claims of innocence, she is convicted and executed. Robert Wise directs the uniformly fine cast with grim efficiency, telling Graham's story in a series of adroitly crafted scenes that won him a well-deserved Academy Award nomination. However, the film belongs to Susan Hayward who gives a intense, shattering performance without one false note. Her performance is so grimly focused that she is, at times, almost unbearable to watch. The final scenes, which lead up to Graham's execution, are exhausting in their emotional intensity as the audience is spared nothing of Graham's agony, despair and desperation when she finally loses the long battle to save her life. Whether one sees Graham as a murderer or a hapless victim of society, the power and relentless, sordid reality of her story leaves an indelible memory in the mind of the viewer.
News & Interviews for I Want to Live!
Critic Reviews for I Want to Live!
Audience Reviews for I Want to Live!
Robert Wise's venture conveying that the truth can be adjusted. Quite a deceptive story of miscarriage of justice for someone who learns about this factual case from the movie. And Susan Hayward's performance was way too mediocre to be Oscar-worthy. As a work of fiction based on actual events, the movie isn't an absolute rubbish. The last half hour is a drag, though.
familiar stranger
Super Reviewer
½
What of course makes the idea of this film intriguing is that this is a woman heading for a Death Sentance in a time where that would be dominated by Men. Based on the true story of party girl Barbara Graham this film shows a woman high on the excitement of the wrong side of the law and being charged for a murder she may or may not have committed. The story is rather drawn out and despite our main character being quite Bold and brassy for the era, the film isn?t particularly exciting viewing, from a true crime prespective it is an interesting story and would perhaps warrant a remake in more graphic detail.
Lady D'arbanville
Super Reviewer
½
Great films distinguish themselves in a number of different ways. Some of them are perfectly cast. Others have tremendous cinematography. Still others may have great scripting, direction or editing. I Want to Live stands out for one reason, Susan Hayward's performance. Hayward shines in this true story about a woman convicted of murder and sentenced to die in California's gas chamber. There are numerous supporting characters in this dramatization but it's Susan Hayward's heart-wrenching portrayal that will haunt you even after the credits roll.
Randy Tippy
Super Reviewer
I Want to Live! Quotes
There are no approved quotes yet for this movie.