I Was a Communist for the FBI
(1951)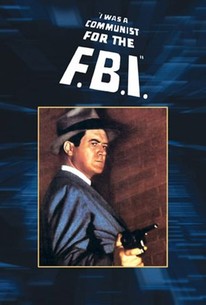 AUDIENCE SCORE
Critic Consensus: No consensus yet.
I Was a Communist for the FBI Photos
Movie Info
The real Matt Cvetic was a borderline alcoholic with a nasty disposition (he once allegedly beat his sister-in-law so badly she required hospitalization). But Cvetic was also a fervent anti-communist, and so, for a brief period in the early 1950s, he was a folk hero. I Was a Communist for the F.B.I. is the semi-true story of how Cvetic (played by Frank Lovejoy) renounced his friends and family and embraced the Red cause--on behalf of the F.B.I., for whom he was a volunteer undercover agent. The film recounts how Cvetic used his job as a Pittsburgh steelworker to contact various American Communist cell leaders, and how he exposed their insidious plans to overthrow the American government. Since the script infers that among the Reds' "subversive" plans was the Civil Rights Movement, I Was a Communist for the FBI is an embarrassing experience when seen today. Cvetic's memoirs were better dramatized by a 1951 radio series of the same title, starring Dana Andrews.
Critic Reviews for I Was a Communist for the FBI
All Critics (3) | Fresh (0) | Rotten (3)
I have a penchant for films based on fact, but I Was A Communist for the F.B.l. failed to convince me that it had more than a passing contact with reality.
Strange film mixes anti-Communism with far right politics, odd thriller elements.
A propaganda film from Warner Brothers about the Communist influences in America.
Audience Reviews for I Was a Communist for the FBI
Described as a film noir drama directed by Gordon Douglas, I expected something with a substance... petty that all it had was a propaganda machine from guys who are even better in doing things they accuse others of... but as the main character Mark Cvetic (Frank Lovejoy) said ,"(I) had the brains to see this slimy thing to what it is." The film was based on a series of stories written by Matt Cvetic that appeared in The Saturday Evening Post, and those stories were later turned into a best-selling book and radio series. It seems that most of the communists in America were simple thugs, racist, vindictive, and tools of a totalitarian foreign power, the Soviet Union - but that is with a reason. This film and radio show are, in part, artefacts of the McCarthy era, as well as a time capsule of American society during the Second Red Scare. The purpose of both are partly to "warn" people about the threat of Communist "subversion" of American society. The movie is really over-acted ultra-patriotic, very similar of what was made in Germany just few years before the World War II started. The story follows Cvetic, who infiltrated a local Communist Party cell for nine years and reported back to the Federal Bureau of Investigation on their activities. Frank Lovejoy wasn't too bad, but I just cannot stand unnatural dialogue and robotic acting which was shown by most of the actors including Dorothy Hart, Philip Carey, and James Millican. Think and tell me... which political party leadership members are not cynical opportunists, racists who are interested only in seizing power on behalf of their party and not in improving social and labour conditions not just in the U.S. but anywhere in the world? Which political group will not exploit ethnic tensions to get their way? I haven't witnessed one yet! There are honest people in all these groups but they never become leaders - they are just sheep for the wolves in a sheep skin. And it was always like that. Well, I look at this propaganda as an offence for those honest people, doesn't matter on which side they belonged. Thanks to my friend who recommended this, and I am glad I saw it - but for the different reasons - I am glad and at the same time very sad that I could realize how huge hatred could be towards fellow brothers and sisters because they just have different way of thinking.
I Was a Communist for the FBI Quotes
There are no approved quotes yet for this movie.