I Was a Male War Bride
(1949)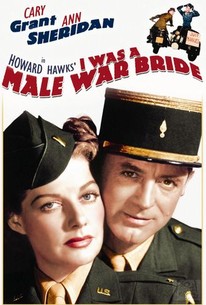 I Was a Male War Bride Photos
Movie Info
This comedy of errors stars suave Cary Grant as a French Army officer who takes outlandish measures to make it into the U.S. with his new American bride. Unfortunately, the only legal way for Grant to be allowed into the U.S. is for him to be designated a "war bride."
Critic Reviews for I Was a Male War Bride
Audience Reviews for I Was a Male War Bride
A lesser effort by Cary Grant but still worth a cursory once over, why not, as it picks up steam as it goes. Ann Sheridan is a worthy co-star and I wondered why the two were not paired again. The story is a trite bit, lame-o, Grant playing a French officer (who's American is so good that he understands plenty of cultural nuance, like he lived here for years, and so there is no French accent) teamed against his will with an American liaison officer in postwar Germany. Adventures ensue, leading to a haystack rendezvous, and thus marriage. Most of this Grant simply acts as if he's aggravated, but you know he's really not. Sheridan returns the compliment.
Kevin M. Williams
Super Reviewer
Not the best, but not the worst by any means!
Jennifer D
Super Reviewer
One of the more contrived Grant films, Cary is perfect as the broad shouldered, debonair, confused as ever bride to his officer wife. A dose of the unfamiliar makes it ever the more believable.
Spencer S.
Super Reviewer
I Was a Male War Bride Quotes
| | |
| --- | --- |
| Capt. Henri Rochard: | My name is Rochard. You'll think I'm a bride but actually I'm a husband. There'll be a moment or two of confusion but, if we all keep our heads, everything will be fine. |
| | |
| --- | --- |
| Sergeant: | Any female trouble? |
| Capt. Henri Rochard: | Nothing but, Sergeant. |
| | |
| --- | --- |
| Sergeant: | You're not Mrs. Rochard! |
| Capt. Henri Rochard: | I'm MISTER Rochard. |
| Sergeant: | Well, it's your WIFE who must report here for transportation to Bremerhaven. |
| Capt. Henri Rochard: | According to the War Department, I AM my wife. |
| Sergeant: | You can't be your wife! |
| Capt. Henri Rochard: | If the American army says that I CAN be my wife, who am I to dispute them? |
| | |
| --- | --- |
| Capt. Henri Rochard: | I am an alien spouse of female military personnel en route to the United States under public law 271 of the Congress. |