Ice Age
(2002)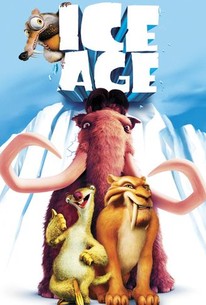 TOMATOMETER
AUDIENCE SCORE
Critic Consensus: Even though Ice Age is treading over the same grounds as Monsters, Inc. and Shrek, it has enough wit and laughs to stand on its own.
Movie Info
Set against the onslaught of the ice age -- and a world filled with wonder and danger -- the story revolves around three unforgettable characters: a wooly mammoth, a saber-toothed tiger, and a sloth, who unite to return a human baby to his tribe.
News & Interviews for Ice Age
Critic Reviews for Ice Age
Audience Reviews for Ice Age
Possibly the best and most original animated film since 'Toy Story' and it had nothing to do with either CGI giants 'Pixar' or 'Dreamworks'. To be fair the actual animation of this film is a lot more basic than most other top animated flicks. The film still looks good but has a slightly more 'Wanna Bros, Merry Melodies' look to it in my opinion, hinting at Chuck Jones a little maybe. Backdrops are nice but slightly minimalistic without much detail, same could be said for the main characters also. Of course it could also be simply down to the quality and skill of 'Blue Sky' not being quite on the same level as the big boys. Obviously aimed at kids so one can't knock the really sappy babyish plot line. Like other CGI flicks it has been made so adults can enjoy also but end of the day the story is silly and juvenile with a mushy happy ending because its for kids. Again to be really really honest the film is rather average if it wasn't for two simple elements, and they are 'Scrat' and 'Sid'. 'Sid' voiced by Leguizamo is a truly likeable guy that looks cute for the kiddies but gets good laughs for the older folk. Love the lisp Leguizamo used for this guys voice, gives him a crazy 'Daffy Duck' likeness which can't be bad right. Easily the best character out of the main trio and he does have some good lines along with 'Manny' the Mammoth. The saber-tooth tigers are pretty much you regular dastardly bad guys with cliched voices. Leary was an odd choice for 'Diego' (strange name choice too) but his calm quiet tones simmer with deception pleasantly. I should also add that we may have found a use for Ray Romano's voice which doesn't annoy after five minutes. Yep Romano's voice actually fits the character of 'Manny' perfectly. For me and I'm sure many others the whole film revolves around the high octane antics of 'Scrat'. His everlasting quest to get a hold of that darn acorn is clearly the highlight and saviour for the film, without this it would of been much much duller. I saw this crazy little guy in the original trailers and even then he lured you in despite the babyish look to the rest of the film, obviously the makers knew this and pushed it. I think the little subplot that runs through the film is genius and probably the best looking sequences in the film. Just the right amount to keep you wanting more and staying for the whole film. This is a highly popular franchise and I do see why, I enjoyed this film in places but others it did drag a touch. Kids will love it completely whilst adults will probably like segments, myself I loved 'Sid' and 'Scrat' but found the rest to be flat. It does pull on the heart strings at times which is good and I guess you could say its a feel good film even though it can be a tad bleak at times. Still no 'Toy Story' beater but one of the best offerings around, maybe more for younger kids than you might like.
Phil Hubbs
Super Reviewer
I gotta say when this first came out, I didn't care for it at all. Everyone else seems to enjoy it, but I find it kind of boring and the animation just not that great compared to other movies. Rewatching it, I found not much has changed in my opinion. The characters are still borderline boring, the animation weak, and the story is pretty weak also. About some ice age misfits trying to save a human infant and all the mishaps that get in the way on their adventure. The voices are "meh, just ok" as Ray Romano, John Leguizamo, and Denis Leary lead the cast. The one saving grace for the franchise is Scrat. He's half rat, and half squirrel, and doesn't talk. He just makes weird noises, and his only goal in life is to get an acorn. He is pretty darn funny, and in my opinion the sole reason to watch this cartoon. Now I have yet to watch part 2, but I did see part 3 in the theater and thought it was an improvement. Hopefully the series gets better, as this first installment just doesn't hold up to animated standards that have been set by recent franchises like "Shrek" and "Madagascar." Still though, kids will love it(Grant dug it!), and with movies like this, that is all that really matters.
Everett Johnson
Super Reviewer
Watching this film from a kids adventure standpoint, it is probably one of the best animated adventure films I have ever seen. It may not be wholly original when you look at the dialogue being delivered, but overall, it is bright, colourful, and funny. The emotion begins when a kid is taken from his tribe and three animals (a mammoth, a sloth, and a saber-tooth tiger) are trying to save him. They are then being hunted for being accused of stealing the kid. This film is very fun to watch and the freshness will never fade away. Dreamworks never fails with their animation, because the visuals are absolutely gorgeous! "Ice Age" is a great film for all ages!
Ice Age Quotes
| | |
| --- | --- |
| Diego: | Listen! I can help you! |
| Manny: | It's ok Sid we'll find our way out. |
| Manny: | It's ok Sid, we'll find our way out. |
| Diego: | You can't the currents too strong, you have to trust me. |
| Manny: | Trust you!? Why on Earth would we trust you!? |
| Manny: | Trust you! Why on Earth would we trust you? |
| Diego: | Because I'm your only chance. |