Ice Age: Collision Course
(2016)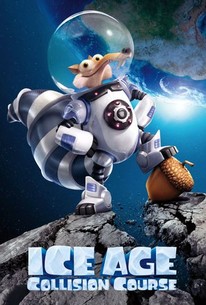 TOMATOMETER
AUDIENCE SCORE
Critic Consensus: Unoriginal and unfunny, Ice Age: Collision Course offers further proof that not even the healthiest box office receipts can keep a franchise from slouching toward creative extinction.
Ice Age: Collision Course Videos
Ice Age: Collision Course Photos
Movie Info
Scrat's epic pursuit of the elusive acorn catapults him into the universe where he accidentally sets off a series of cosmic events that transform and threaten the Ice Age World. To save themselves, Sid, Manny, Diego, and the rest of the herd must leave their home and embark on a quest full of comedy and adventure, travelling to exotic new lands and encountering a host of colorful new characters.
News & Interviews for Ice Age: Collision Course
Critic Reviews for Ice Age: Collision Course
Audience Reviews for Ice Age: Collision Course
Unbelievable where the franchise went after such a simple and sweet original film. By now there are like a hundred characters and the stories keep getting trippier. This time there are UFOS, asterdoids, magnets and llama hippies. THat may get the giggle from a couple of children, but adults have no business watching this anymore. Just let it die now.
After so many poor reviews I didn't expect much from this film but I loved it, As usual Scrat steals the show and is as funny as he's been since the original, The main story was pretty good and was told well plus it was nice to see Simon Pegg back as Buck, Some funny laughs and some great entertaining scenes, I can't comment on the 3D as I watched the 2D version, Kids will love it and that's all this film is for really so I never really understand why critics shred films like this to bits.
Jamie Clarke
Super Reviewer
½
Shameful and embarrassing. Am I talking about this movie? Or am I talking about Donald Trump being elected the next president of the United States? If you said the latter, then you would be correct. That's about all I'm gonna say about that, because I could go on for days as to how this will end horribly. It's not a matter or if, it's a matter of when. But enough of that. I will say that these goddamn fucking Ice Age movies are getting on my nerves. I wouldn't be surprised if these movies keep coming out even after we're all dead and gone, which might actually be sooner than you think. I don't know how that would happen, if the people responsible for making these movies are all dead, but I'm sure they'd find a way. The only reason the Ice Age movies have gone as long as they have, without the obvious reason of they make a lot of money, is that they have found ways to introduce new characters to the already established cast. That way they give the appearance of freshness when, in reality, the films are almost always the same bullshit of some sort of scenario that threatens the lives of Manny, Sid, Diego and everyone they know. They struggle to come up with a solution to their problem, but they eventually prevail and the day is saved and nothing actually happens of any consequence to any one in the movie. And that's fine and dandy for, maybe, 2 movies. We're going on FIVE movies now. And I've heard that there's an already an idea floating around for a sixth movie. Seriously. I didn't watch Kung Fu Panda 2, but the third installment actually found new ways to extend the story in a logical way, with deeper exploration of Chinese mythology. They found new ways to move their characters forward in intriguing ways. This movie does absolutely jackshit of that. I suppose you could say that Manny and Ellie trying to keep their daughter from leaving the nest when she marries her fiancee, Julian. It's literally nothing, but I guess you could make the argument for that, even if I don't buy it for one second. There's the usual slapstick bits with Scrat that are, honestly, getting old. Not saying that there aren't some inspired bits, but considering that this is the fifth movie in this franchise, it's really difficult to be that into his antics, when it's essentially the same thing it has been for half a decade. Scrat fights to keep his acorn when everything around him conspires against him to keep the two apart. It's the same bullshit you've always seen, except it takes place in space. The movie, though, because of its approach, does move at a very rapid pace and it doesn't stick around for more than it needs. That should be enough to keep kids reasonably entertained, for sure, but adults will have a hard time remaining interested. There are some good bits, like the re-addition of Buck, voiced by Simon Pegg. Like his first appearance, which is a musical number, where he dispatches of several dino-birds who stole an egg. Pegg is always good and he is reasonably entertaining in the role, but he doesn't really add much past some good voice acting, because the script is more considered with slapstick and silliness. Again, kids will be reasonably entertained. The animation is solid, so that will hold their attention. But, realistically, there's no denying that Ice Age has been on thin ice creatively (my Gene Shalit pun for the day) since the second movie. And, if I'm being completely honest, I've always said that the only thing they CAN do, that would be fresh, would be to revisit the baby Sid, Manny and Diego cared for in the first flick. That's the only think they could do that would be even remotely interesting. That's it. Anything else would be another hollow extension of a franchise that should have already been over by now. It's not the worst animated movie I've ever seen, not even close, but it's still not very good and was cynically produced to cash in on the name. I wouldn't recommend it in the slightest.
Jesse Ortega
Super Reviewer
Ice Age: Collision Course Quotes
There are no approved quotes yet for this movie.