Ice Princess
(2005)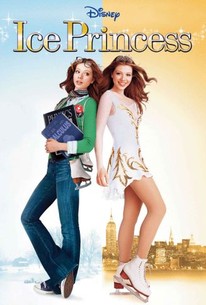 Movie Info
A teenager is torn between her desire to please her mother and following her own ambitions in this family-friendly comedy drama. Casey Carlyle (Michelle Trachtenberg) is a high-school student who has a keen mind for math and looks to be on the fast track to Harvard, which is just the way her mother (Joan Cusack) wants it. However, Casey also has a dream of becoming a competitive ice skater, which is not a popular notion with either Casey's mom or her school's clique of aspiring skaters, led by the egocentric Gen (Hayden Panettiere). However, one day at the rink Casey wins the attention of Tina (Kim Cattrall), a former skating champion who now trains her daughter and is trying to live down an incident that grounded her career on the ice. Tina thinks Casey has what it takes to be a champ, but neither Gen nor Casey's mother are happy with this news, leaving Casey and Tina to go it alone, though Casey soon wins the emotional support of Teddy (Trevor Blumas), Gen's handsome older brother. Ice Princess also features champion skater Michelle Kwan in a small role as herself, doing television commentary at a skating event.
News & Interviews for Ice Princess
Critic Reviews for Ice Princess
Audience Reviews for Ice Princess
Through all the cheesiest Disney Channel flicks to the big screen tear jerkers, "Ice Princess" comes along and falls somewhere in the middle. After going through a lifetime of handwork at school, Casey embarks on a school physics assignment that sends her on a life changing journey to find her true passion (figure skating). As she tries and tries, her passion just never came through, but when she factored in physics and calculated her moves and landings, things began to look up for her. This film is about self-discovery at it's core, and even though the dialogue is cheesy as hell, the actresses could have been better cast, and the story could have been toned-down just a tad, I did enjoy myself. "Ice Princess" is family fluff that shouldn't bother anyone if they know what they are in for. Recommended to young kids and teenage girls, which is what the demographic is anyways.
Awful kids film. The music is the only thing that gives you any emotion in this film since the acting and narrative is dull.
Sophie Burgess
Super Reviewer
A chick flick that bored the crap out of me. This is not worth anyone time, even with a few good moments in the film.
Jim Careter
Super Reviewer
Ice Princess Quotes
There are no approved quotes yet for this movie.