Ice Spiders
(2007)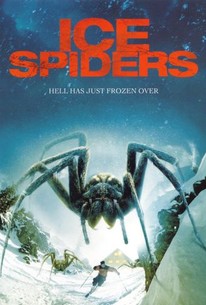 AUDIENCE SCORE
Critic Consensus: No consensus yet.
Movie Info
The cast of the hit primetime drama Melrose Place reunite for his Sci-Fi Channel original film concerning a remote ski lodge that is overrun by enormous mutant spiders. Ski season is upon us, and as an ambitious team of Olympic hopefuls arrives at the Lost Mountain Ski Resort to train under a retired Olympic skier (Patrick Muldoon), it begins to look as if they may have a shot at the gold after all. The fun quickly turns to fright, however, when a scientist (Vanessa Williams) from a local government lab arrives with an ominous warning about a top-secret experiment gone horribly awry. It seems that government scientists have succeeded in creating a breed of giant spiders capable of surviving in even the most extreme climates, and somehow the aggressive arachnids have managed to escape from the lab. Now, as the snow begins to fall, the flesh-eating spiders scurry out onto the slopes for a hearty winter snack.
Critic Reviews for Ice Spiders
All Critics (3) | Fresh (3) | Rotten (0)
The kills aren't spectacular, but they're fun enough... for a movie that doesn't try to be anything more than it is.
I know this film isn't for most people, but I had a lot of fun watching it.
Audience Reviews for Ice Spiders
½
Cheesy. Poor acting. Bad script and effects. But the fact that there are man-sized spiders trying to kill people, just makes the rest of the film amazing.
Jacob Palacio
Super Reviewer
Tibor Takacs delivers another low budget science fiction movie by the name of Ice Spiders, which is just as impressive as the lame title.
Giant spiders are at a ski resort. Hence the "ice" and "spiders" in Ice Spiders. Simple. Just like the plot. A secret government project has gone wrong, and the spiders are loose as well as hungry. Stupid. The first 5 minutes tells the tale of what is to come and the rest of the 85 minutes doesn't go by quick enough. Seriously, what a waste of a few dollars.
The violence is bloody and graphic, which is THE ONLY highlight of this picture. The spiders do make a ton of appearances, but this isn't necessarily a good thing. Why? The visual effects stink. The more time the spiders are on screen means more time to view cheap CG.
When the poor looking spiders aren't stinking it up, the low level acting is. The cast just does not have it in them to put on any decent performances and the crappy dialogue doesn't help either. Watching all the characters is just plain irritating.
All that is left to say is to skip this piece of garbage and move on to something else.
½
Ice Spiders is exactly what you should have come to expect from the Sci-Fi channel. It's stupid, fun and simple as can be. It was a nice setting choice, shaking off the suburban or jungle environments. The CGI wasn't great but there were many interesting shots. The early reveal of a spider from a distance, as two men hunted deer, was an inspired choice. Muldoon was a terrible leading man, he was so casual about everything you wonder what it would take to stir his shit. Some annoying teens are introduced early on, but thankfully they fade into the background. If you like spider kill death movies, check it out.
Luke Baldock
Super Reviewer
Ice Spiders Quotes
There are no approved quotes yet for this movie.