Ice Twisters
(2009)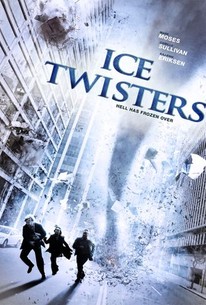 AUDIENCE SCORE
Critic Consensus: No consensus yet.
Movie Info
A daring weather experiment unleashes a devastating onslaught of freezing windstorms and lethal ice tornadoes throughout the Pacific Northwest. The region locked in the arid grip of a debilitating drought, scientists and experts attempt to instigate precipitation by launching liquid-condensing drones into the clouds. When the drones experience an unexpected error, however, a storm begins to brew. The freezing winds quickly gaining momentum, there appears to be no way of calming Mother Nature's fury. Before long, the deadly gusts have formed massive, frigid twisters, sending the frightened populace running for cover. With precious little time to spare, it's now up to the very same people who created this freak storm to put it out of commission before it can reach the big city.
Critic Reviews for Ice Twisters
There are no critic reviews yet for Ice Twisters. Keep checking Rotten Tomatoes for updates!
Audience Reviews for Ice Twisters
½
I realize that certain things in Science Fiction have no basis in reality. I also realize that Syfy uses the small budget that they have to at least make these films somewhat funny, when they know they aren't very good. What I don't understand is why bother making the film at all, when it is this bad? The special effects are a complete joke, the acting was just plain bad, and as for the story...it was a neat concept until they started doing things that were just completely fucking stupid. I can't decide what was stupider, so maybe you can... Driving through a tornado if you do it at the correct angel, a storm cell that chases the scientists that created it, and of course the Sci-Fi author who solves problems, government scientists can't, using just his stories. This movie is ridiculous Canadian garbage and whoever wrote it deserves to be blacklisted!
Todd Smith
Super Reviewer
Oh no! This was really boring Movie. I like disaster Movies but this was a disaster itself.
Ice Twisters Quotes
There are no approved quotes yet for this movie.