Idiot Box
(2001)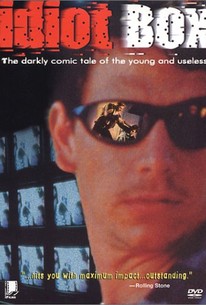 AUDIENCE SCORE
Critic Consensus: No consensus yet.
Movie Info
Low-down and earthy, this Australian comedy, the sophomore effort from director David Caesar, tells the tale of two jobless Sydney slackers who try to become bank robbers. Though they could be out looking hard for work, Kev and Mick prefer to wile their days away drinking beer and watching crime dramas on television. They only show motivation when they run out of suds, though Kev does occasionally take time have sex with his girlfriend Betty on the living room couch in between shows. Mick is attracted to Lani, the pretty virgin who works in their favorite drive-through liquor store. It doesn't take long for Mick to steal Lani away from her older brother's overprotective eye and become her lover. Shortly thereafter Mick and Kev, feeling they have learned all they can from the telly, begin plotting their first heist. Unfortunately, a pair of robbers dressed as clowns rob the boys' intended bank before they do and this brings in a pair of detectives. Throw in the obstacles presented by the neighborhood crime lord, and the stage is set for the story's darkly humorous conclusion. ~ Sandra Brennan, Rovi
Critic Reviews for Idiot Box
All Critics (3) | Fresh (1) | Rotten (2) | DVD (2)
Idiot Box is actually a Tarantino-esque, but Australian as all getout, tragi-comedy in which David Caesar speaks his (until now stifled) cinematic language of choice.
January 1, 2000
Audience Reviews for Idiot Box
This movie straight from Australia follows two friends who dont work and more or less cause trouble almost like the Aussie beavis and butthead but this movie isn't a comedy its a gritty drama when the two of them sick of watching crime movies all day decide to commit a crime of there own and rob a bank of course all doesn't always go as planned in films like this and it leads them both to a very tragic conclusion . Overall this isn't a bad movie by any means but its gonna take a certain taste to wanna sit threw it i enjoyed it but just wouldn't recommend it to just anyone
Idiot Box Quotes
There are no approved quotes yet for this movie.