Idiot's Delight
(1939)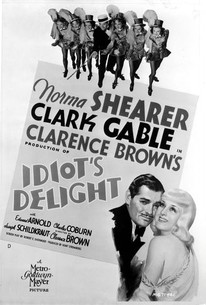 Movie Info
Robert E. Sherwood's Pulitzer Prize-winning play Idiot's Delight starred Alfred Lunt and Lynn Fontanne on Broadway. Set in a lavish alpine hotel bordering an Italian air base, the story throws together several disparate people, each in his or her own way affected by the World War that threatens to erupt at a moment's notice. The only person who doesn't seem to have a political or economic stake in world affairs is Harry Van, a two-bit American entertainer who is stranded in the hotel with his travelling all-girl troupe, "Les Blondes." Harry is convinced that the alluring Irene, the foreign-accented "travelling companion" of munitions tycoon Achille Weber, is actually an American girl with whom he'd had a one-night stand years earlier, but Irene laughs off his insinuations. Eventually, Irene turns to Harry for comfort when Weber proves too disgustingly warmongering for her tastes. When war breaks out and the hotel is targeted for bombing, Harry makes sure that everyone gets to safety; he himself stays behind with Irene, with whom he has fallen in love. The two sing a hymn as the hotel is blown to oblivion. When Idiot's Delight was filmed in 1939, Norma Shearer did her best Lynn Fontanne imitation as Irene, while Clark Gable remained Clark Gable in his interpretation of Harry Van (his song-and-dance rendition of "Puttin' on the Ritz" is a classic of sneering insouciance). The film underwent an extensive "MGM-izing": while the pre-European affair between Harry and Irene is never dramatized in the play, the film shows Harry and Irene commiserating in a long prologue set in a seedy vaudeville house--and, in keeping with censorship restrictions, it is made abundantly clear that, while Harry befriends Irene, he does not sleep with her. The munitions manufacturer, here played by Edward Arnold, is depicted as an aberration, and not representative of "honest" business moguls (many of whom were close personal chums of MGM head Louis B. Mayer). And, while the ending of the play does not tell us whether or not Harry and Irene survive the bombing, the film permits the lovers a sun-streamed happy ending.
Critic Reviews for Idiot's Delight
Audience Reviews for Idiot's Delight
Gable interestingly (because he's not what you call your first choice for this kind of role) plays a showbiz hoofer, back from WW1 and on the lookout for any job he can tag. Norma Shearer plays vaudeville carny performer. They meet for one night of love and then part, only to meet up again years later in Europe at the outbreak of WW2. Robert Sherwood concocted this basically anti-war message film but it seems to bear the imprint of many other hands and too many cooks... For instance, Shearer's kooky traveling artist persona grates on the nerves and one wishes Gable, ever a rock, would shut her up just once. Here is a mighty effort, although to no avail. Or in conventional terms: a bomb.
Kevin M. Williams
Super Reviewer
Enjoyable if dated comedy/drama with Norma giving an amusing Garboesque take on her character. Gable's famous performance of Puttin' on the Ritz is memorable because he is so easygoing and game. Good supporting cast and assured direction also contribute to making this a pleasant diversion. Try and see the version with the international and far better ending.
Idiot's Delight Quotes
| | |
| --- | --- |
| Harry Van: | Oh, you like my electrical personality, hmm? |
| Irene Fellara: | No, nothing as obvious as that. . . |
| Irene Fellara: | No, nothing as obvious as that. |