Idle Hands
(1999)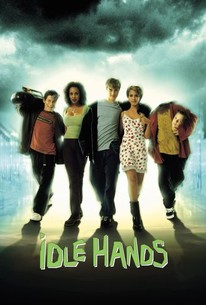 TOMATOMETER
AUDIENCE SCORE
Critic Consensus: An uneasy mix of slapstick and gore, Idle Hands lacks the manic energy and comedic inspiration required to pull off its goofy premise.
Movie Info
The devil will find work for idle hands to do, so what happens when he goes on the prowl for a partner in crime and ends up with an utterly clueless 17-year-old slacker? The result is a lot more moronics than demonics in the wry comedy-horror IDLE HANDS. Anton Tobias wakes up Halloween morning to discover-after watching some TV and perusing the contents of the fridge, oblivious to the pool of blood on the floor-that his parents have been turned into a couple of headless Halloween decorations. After hanging out with his equally irresponsible friends, Mick and Pnub, Anton discovers that his right hand has a very bloodthirsty mind of its own, and it's hell-bent on wreaking deadly havoc with or without him. Will the gates of Hell open wide at the high school Halloween Dance and drag an innocent soul into eternal damnation? They just might in IDLE HANDS, when the forces of good and evil face off in a showdown full of diabolical comedy and bloodcurdling terror.
News & Interviews for Idle Hands
Critic Reviews for Idle Hands
Audience Reviews for Idle Hands
Yes, this movie is utterly ridiculous and maybe a little stupid at times, but it is also very funny, wacky, exciting, and entertaining. This is definitely something to catch on TV late at night for some fun.
This is a gruesome but fun horror comedy about a super lazy teenaged slaker who's right hand gets possessed by evil and goes on a killing spree. Plotwise, that's it. There's really nothing mroe to this movie. I mena, there's a bit of a love story going on, and it's a high school movie, but really, that's just extra stuff. The real focus is just about the killer hand and the bum trying to stop it before too much mayhem gets caused. This movie really seems like it's gonna be stupid and suck, and yes, while it's by no means intelligent or brilliant, it's super entertaining and a great deal of fun. As far as horror comedy movies go, it's far more campy and schlocky than Scream. It's slapsticky in the vien of Evil Dead II (which it references/parodies constantly and not subtly), but it avoids being a total ripoff, so it's cool. The characters, though goofy, lazy, good for nothing stoners, are likeable and it's hilarious watching them banter back and forth and try to deal with such a ludicrous situation as a killer hand on the loose. Jessica Alba is also in this as the hottie love interest, and, while she's not great, this was early in her career so her flaws can be overlooked (I think). For a comedy, this is quite gruesome, but it's almsot always played for laughs, even though it does get a little disturbing at times. Maybe here and there some legitimately intense moments pop up, but this is mostly just wacky instead of being a truly scary experience. The effects are good though and Christopher Hart (who played Thing in the Addams Family movies) is awesome as the possessed hand once it SPOILER gets chopped off and starts roaming free. LIke many high school movies, the climax takes place at a school dance, only here it's a Halloween ball instead of prom. For rock fans, it's also cool seeing The Offspring play the band perfporming at the dance. Without getting into specifics, they also are part of one of the best bits of the movie. Overall, this is some silly stuff, and I shouldn't be giving it the credit I am, but I first saw this at an impressionable age, and it left a pretty good impression on me, and I think it's pretty charming. Yeah, it's not great, but as far as B-movies like this go, it could be a whole lot worse. Besides, where else are you gonna see people using an asthma inhaler as a hash pipe? Shut your brain off and give this a chance. It's ridiculous, but quite fun.
Chris Weber
Super Reviewer
Inept attempt at a comedy horror film, Idle Hands is one of those forgettable horror comedies that has a boring, unimpressive teen cast. Seth Green was the only one in this film that made it a little bit funny, and everyone else was pretty awful. Devon Sawa was never a good actor to begin with, and his skills are pretty mediocre here. The film sucks. The plot might've been something very good if the screenwriters would've written another draft of the screenplay, but they didn't. The film feels, tired, lazy and uninspired. Jessica Alba has always been good at one, providing a films eye candy, and she doesn't disappoint in this. But as usual, her acting abilities leave a lot to be desired. The film might've been good when first released, but it's one of those films that really doesn't stand the test of time, and now, over a decade after the films release; you see that it's not a good movie. Sure it's not the worst, but it's still bad. Idle Hands could have been a lot better; the film could have been something really funny. Unfortunately it falls flat. Idle Hands is definite a poor attempt at horror comedy, one that everyone should forget about. Idle Hands is not a film that has stood the test of time, the film has become unfunny very quick and it's easily one of the worst horror comedies in quite some time. Luckily for horror fans, there have been better horror comedies since this films release. Forgettable and avoidable film. Aside from Jessica Alba, this film is awful.
Idle Hands Quotes
There are no approved quotes yet for this movie.