The Idolmaker
(1980)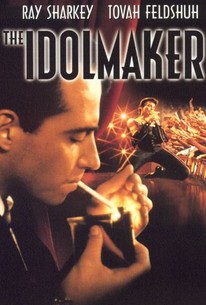 Movie Info
The story of Philadelphia-based rock 'n' roll starmaker Bob Marcucci is given a pointed a clef treatment in The Idolmaker. Ray Sharkey plays Vincent Vacarri, who takes a couple of raw young kids (Peter Gallagher and Paul Land) and molds them into teen idols. If Gallagher and Land seem at times to be clones of Fabian and Frankie Avalon, then you've gotten the point. As played by Sharkey, Vacarri comes off as both maven and monster: he gives his boys everything they need professionally and everything they want personally, but it's subliminally clear that his interest is purely mercenary (incredibly, Bob Marcucci is the film's technical advisor). An excellent, clear-eyed view of show biz mechanics, The Idolmaker falters only in its anachronisms, notably the style of music performed by Vacarri's proteges.
Critic Reviews for The Idolmaker
Audience Reviews for The Idolmaker
An enjoyable look back at the Italian-American teen idol singers of the 50's and early 60's. The performance by Ray Starkey (super underrated actor) makes this a fun film to see. Peter Gallagher did a fantastic job as a teen idol, too. Not a blockbuster film, but I found this movie very entertaining...
Cynthia S.
Super Reviewer
A music manager creates a star out of a singer, but after they part, he has to start all over with a busboy. Some of the film is stylish, but there's nothing new about this story. Even though The Idolmaker predates mediocre films That Thing You Do and Cadillac Records, I can't imagine that 1980 had not seen the rise and fall of a music manager storyline before. Regardless of its lack of originality, what bothers me most about the film is the main character's hotheadedness and its depiction of women. Vincent is a New York street tough, and he screams and yells at the drop of a hat. Yes, I've met people like Vincent, but there are no layers to his character or to Ray Sharkey's performance. He schemes and he yells, and that's about the extent of it. Women in The Idolmaker are either part of a massive throng of screaming prepubescents or supporting characters who serve the male main characters as verbal punching bags or sex partners or both. They may have interested of their own, as is the case with Ellen, but these interests are either easily manipulated or subsumed to male will. Overall, this film is a cliche with no noteworthy songs and a sexist portrayal of women.
Jim Hunter
Super Reviewer
I thought it was pretty cool. The songs were decent and I enjoyied watching such a driven character. My only gripe is that it ends in the "Hollywood" way.
Marion Ravenwood
Super Reviewer
The Idolmaker Quotes
There are no approved quotes yet for this movie.