If Beale Street Could Talk
(2019)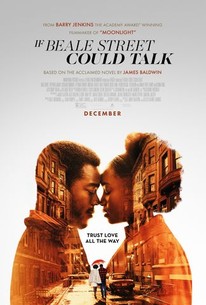 TOMATOMETER
AUDIENCE SCORE
Critic Consensus: If Beale Street Could Talk honors its source material with a beautifully filmed adaptation that finds director Barry Jenkins further strengthening his visual and narrative craft.
If Beale Street Could Talk Videos
If Beale Street Could Talk Photos
Movie Info
Set in early-1970s Harlem, If Beale Street Could Talk is a timeless and moving love story of both a couple's unbreakable bond and the African-American family's empowering embrace, as told through the eyes of 19-year-old Tish Rivers (screen newcomer KiKi Layne). A daughter and wife-to-be, Tish vividly recalls the passion, respect and trust that have connected her and her artist fiancé Alonzo Hunt, who goes by the nickname Fonny (Stephan James). Friends since childhood, the devoted couple dream of a future together but their plans are derailed when Fonny is arrested for a crime he did not commit. Through the unique intimacy and power of cinema, If Beale Street Could Talk honors the author's prescient words and imagery, charting the emotional currents navigated in an unforgiving and racially biased world as the filmmaker poetically crosses time frames to show how love and humanity endure.
Critic Reviews for If Beale Street Could Talk
Audience Reviews for If Beale Street Could Talk
½
A subtle and gorgeous examination of people trapped in broken systems that never forgets to see its characters as complex human beings.
Alec Barniskis
Super Reviewer
I might be the only person on the internet who didn't like Moonlight, but whatever trepidation I may have had about Barry Jenkins has been banished away thanks to his recent adaptation of the James Baldwin novel "If Beale Street Could Talk". In it, KiKi Layne plays a young woman coming to terms with her pregnancy after her boyfriend (Stephan James) has been imprisoned under a false accusation of rape. The core of the story is predominantly focused on their relationship, a pure love born out of mutual respect, honesty, and years of dedication, a love that we rarely see conveyed with such profound depth in even the genre of romance film. At times, the intimacy is incredibly arresting without being lurid or melodramatic. Equally rare is the way in which 1970's Harlem is presented. Normally a city shown in crime dramas as grey and rainy, soon to be hidden in the shadows of neon lights, Jenkin's Harlem is a sunny and vibrant world if not a bid dilapidated. It is populated by families, brothers and sisters genuinely trying to help and understand one another, but this is often eclipsed by the societal afflictions of deep seated bigotry, police corruption, and the victimization of the working class. One of the most unsettling scenes this year is a character played by Bryan Tyree Henry, another man recently incarcerated after being falsely accused, describing the existential and physical horror of living in prison, how it changes a person and instills fear in your very soul. It's a chilling yang to the romantic yin of Tish and Fonny's relationship, taking on themes that have been handled in a much more bumbling fashion all year in equally socially conscious (yet less refined) films.
K Nife Churchkey
Super Reviewer
If Beale Street could talk it would warn you to avoid seeing If Beale Street Could Talk.The acting was good but the story was excruciatingly dull and the music a major distraction. Was it arty crap or crappy art? 2019 not off to a good start (1-1-19).
If Beale Street Could Talk Quotes
There are no approved quotes yet for this movie.