If I Were You
(2012)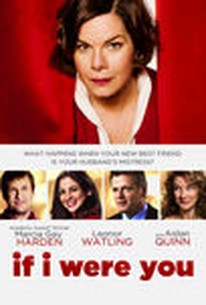 Movie Info
Madelyn Reid (Academy Award winner Marcia Gay Harden) accidentally learns of her husband's infidelity when she saves his sexy young mistress (Talk to Her's Leonor Watling) from a bungled suicide attempt. When her unsuspecting young rival suggests the two new "best friends" take each other's advice - on everything - Madelyn sees an opportunity to seize the upper hand. But the plan backfires when Lucy, an aspiring actress, insists Madelyn keep her end of the bargain - and orders her to star as King Lear in a very amateur production, with Lucy playing The Fool. Things really get out of control when Lucy starts giving Madelyn instructions on dealing with an amorous coworker and a handsome stranger (the ever delectable Aidan Quinn). Marcia Gay Harden gives a hilarious, touching and utterly believable performance in this delightful comedy about two women who become the unlikeliest of friends. With pitch-perfect chemistry between odd couple Harden and Watling, a fine supporting cast, plenty of laughs, and a few pearls of wisdom, If I Were You is a very entertaining look at the unexpected places that life can take us.(c) Kino Lorber
Critic Reviews for If I Were You
Audience Reviews for If I Were You
"If I Were You" starts with Madelyn(Marcia Gay Harden) wanting to surprise her husband Paul(Joseph Kell) with his favorite pastry. But then it is Madelyn who is surprised by Paul having an affair with the younger Lucy(Leonor Watling). She then follows Lucy after the lovers have an argument. Madelyn even goes so far as to stop Lucy's suicide attempt, followed by the women striking a unique deal. For a comedy that is centered around an off-off-off Broadway production of King Lear, it is no surprise that "If I Were You" is as uneven as it is. While Leonor Watling hits the right farcical notes, Marcia Gay Harden does seem lost at times. But not in one scene she shares with Aidan Quinn set at a nursing home, that while it does seem like it comes from another movie entirely is also the highlight of this one. And Quinn's stabilizing presence does even things out effectively enough to make this movie at least somewhat likable.
Only reason this movie gets the rating it does is because of Marcia Gay Harden's performance and Leonor Watling's charming presence. Other than that, I think the script, while having a good idea about marriage and how stagnation pushes someone to pursue an affair and how the person that's being cheated on deals with that, but I think the movie has some jarring tonal shifts. Sometimes it's a goofy romantic comedy and sometimes it's a Lifetime drama. This isn't bad in theory, it's the execution that leaves a lot to be desired. At times it feels like you're watching two completely different movies with its shifts in tone. It feels like what ended up on screen was the first draft of the script and it wasn't refined or improved upon with more time spent on actually fleshing out the characters. Thankfully, again, Marcia Gay Harden's performance makes it more than watchable and there are definitely some funny moments, mostly from the director of the play, and moments of insight. It's just that those moments of insight are certainly less that the moments of hilarity. I think some moments are only funny because of the cast and not because it's actually a well-written joke. The film is also unnecessarily long, the exposition, with Madelyn meeting Lucy goes for at least 20 or so minutes. It didn't really need to be this long, and it starts the movie off on a sour note. Again, I think Marcia and Leonor make most of this work with their chemistry and their friendship feels genuine, it's one of the few parts of the movie that felt genuine, but the script lets them down with its script that doesn't know how to maximize this film's potential for comedy. Still, this movie is fine. I'd say it was a bit of a letdown, but I went in with no expectations. It's below average at best.
Jesse Ortega
Super Reviewer
If I Were You Quotes
There are no approved quotes yet for this movie.