If Lucy Fell
(1996)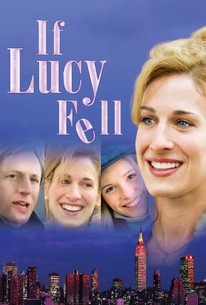 Movie Info
This vanity project from writer, director, and star Eric Schaeffer is a romantic comedy about a pair of New Yorkers with a suicide pact. Joe MacGonaughgill (Schaeffer) is a painter and teacher who has been spying for years on Jane (Elle Macpherson), the gorgeous woman who lives across the alley, where she can be secretly observed undressing. Joe lives with Lucy Ackerman (Sarah Jessica Parker), a psychotherapist who's also his best friend. Suffering from her own relationship troubles with her boyfriend Dick (William Sage), Lucy is reminded of a long-ago pact she made with Joe: if neither is involved in a serious relationship by her rapidly approaching 30th birthday, they will commit suicide by jumping together off the Brooklyn Bridge. Then Jane comes to a show of Joe's artwork and he musters up the courage to ask her out, while Lucy begins dating Bwick Elias (Ben Stiller), an oddball artist who paints with his body parts. Only after Jane and Bwick turn out to be major disappointments do Joe and Lucy realize that they're perfect together -- and not in the platonic sense. Struggling independent filmmaker Schaeffer convinced Parker to take the female lead in If Lucy Fell when she hailed the cab he was driving.
Critic Reviews for If Lucy Fell
Audience Reviews for If Lucy Fell
½
Generic and uninspired, If Lucy Fell is stereotypical rom-com tripe. The story follows two friends that make a death pact to jump off the Brooklyn Bridge if they haven't turned around their romantic fortunes in 28 days. Starring Sarah Jessica Parker, Eric Schaeffer, Ben Stiller, and Elle Macpherson, the cast is fairly good and gives decent performances. But the writing is extremely poor, and is just one cliche after another. If Lucy Fell is a by the book romantic comedy that has some charm, but no originality or heart.
Dann Michalski
Super Reviewer
I know it's not a great movie, but this is one i used to have on VHS when it first came out and just loved, so I have good memories of it, which have probably sent the rating up a star it doesn't deserve! I recently picked it up on DVD after not seeing it in years, and still love it, even though I can see it is a bit silly in hindsight. This is a really nice role for Sarah Jessica (particularly when you look at some of the movies she is picking these days. Geez!). I also didn't realise a very young Scarlett Johansson is in this too with a small part! Elle McPherson plays the same vapid pretty girl she always seemed to play around this era of her career (as with her character on Friends, I think was around the same time). Pretty face, wooden acting. Really not a fan, funny you don't see her these days. But I guess she suits the shallow Jane here. Eric Schaffer as Joe is not all that well cast, actually kind of weird. (I think written that way, though). Still not annoying enough to put me off the movie! Also worth a look for a younger Ben Stiller - also better than anything he has been in recently (Fockers, anyone?). Just a sweet, romantic little story which is a bit quirky. Undemanding viewing.
Nicki Marie
Super Reviewer
½
Lucy has a terrible dull lovelife and lives as a single woman together with her roommate Joe. Lucy and Joe are best friends so they agree to jump off the Brooklyn Bridge if either of them aren't in a committed relationship within a month. This movie wasn't the best I've seen and it wasn't the worst either. Ben Stiller's character was hilarious and extremely weird in this movie and it gave a lot of laughs. This movie has a lot of talented actors in it and I thought this was what made the movie much better than it was.
Naughtia Nahazhina
Super Reviewer
If Lucy Fell Quotes
| | |
| --- | --- |
| Jane Linquist: | We're not reality material. |
| Joe MacGaunaughill: | I didn't know that. |
| Jane Linquist: | What's the clue... smart, sexy, good-looking guy... Why haven't you slept with a girl for the last five years? |
| Joe MacGaunaughill: | Because I've been saving myself. |
| Jane Linquist: | For who? |
| Joe MacGaunaughill: | I guess I don't know. |
| | |
| --- | --- |
| Al: | I'm proud of you, Joe. |
| Joe MacGaunaughill: | Why? |
| Al: | Because you finally figured out the girl in your heart that isn't the girl in your dreams. Some people don't figure it out all their lives. |
| | |
| --- | --- |
| Joe MacGaunaughill: | I'd be happy to blow your mind but... can we just lie down? |