If These Walls Could Talk 2
(2000)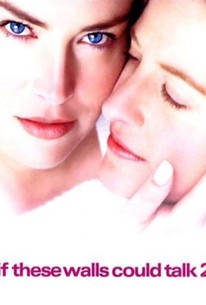 AUDIENCE SCORE
Critic Consensus: No consensus yet.
If These Walls Could Talk 2 Photos
Movie Info
This three-part drama, produced for HBO, examines the changing tides of the lives of lesbians in America, both politically and personally, as we eavesdrop on three stories taking place in the same house over a span of five decades. In 1961, the house is home to Edith (Vanessa Redgrave) and Abby (Marian Seldes), an elderly lesbian couple whose lifestyle is not accepted or acknowledged by their families. When Abby suffers a serious stroke and is on the verge of death, her family rallies to her side, but not understanding the nature of her relationship with Edith, she is not included as her loved ones say their final good-byes. After Abby's death, her nephew (Paul Giamatti) and his wife (Elizabeth Perkins) arrive from out of state with plans to sell the house, without consulting Edith. In 1972, the house is now home to four college students, Michelle (Amy Carlson), Linda (Michelle Williams), Karen (Nia Long), and Jeanne (Natasha Lyonne), all of whom are actively involved in the women's movement and also happen to be lesbians. The four find themselves at odds with the campus women's group when they try to promote an all-women's dance, while the other members of the group feel that feminism, not lesbianism, should be the focus of the group. Similarly, Linda faces hostility from her friends when she becomes involved with Amy (Chloe Sevigny), a very butch townie; Linda's friends see Amy's masculine attire and attitude as a form of self-loathing against being a woman, and while Linda cares deeply for Amy, she's not always comfortable with her and isn't sure that she wants to be public with their relationship. In 2000, Fran (Sharon Stone) and Kal (Ellen DeGeneres), a happy and firmly committed couple, are sharing the house, and after much discussion, they decide that they want to take their relationship to the next level and have a baby. However, deciding that they want a child and dealing with the practicalities of getting pregnant are two different things; Fran and Kal first debate about going to a sperm bank as opposed to asking one of their male friends to help out, and later, either going to a doctor to perform the procedure or trying it at home. DeGeneres' significant other, Anne Heche, wrote and directed the final segment; the 1972 story was directed by Martha Coolidge, and the 1961 episode was directed by Jane Anderson.
Critic Reviews for If These Walls Could Talk 2
All Critics (4) | Fresh (2) | Rotten (2) | DVD (2)
Only one of the segments warrants viewing, and even at its level there is not much to be impressed by aside from Sevigny's performance.
July 11, 2003 | Rating: 2/5
Audience Reviews for If These Walls Could Talk 2
½
Almost as good as the first one but not as shocking.
Sunil Jawahir
Super Reviewer
½
"if these walls could talk 2" is a political propagenda of lesbianism, seperated in three partitions of decades with lesbians in three different modes as old-time closet school-teachers, the 70s transvestite activist and the contemporary homosexual marriage. the first one is more emphatically sorrowful since the elder lesbian couple just suffer from a practical issue of house mortgage since they cannot get married to deserve the inheritage like the heterosexual couple blessed with the legitimate approval of marriage. they recluse from society with passivism without interfering and protesting on street for their rights, then you could peek some marlene dietrich alike tuxedo party in the yellowed pictures. then the time shifts to the radical 70s with chloe sevigney impersonating the transvestite dyke in boyish clothings and you could see chloe making love to michelle williams in nudity which is a bit nauseating and over-the-top. as chloe sevigney's "brown bunny" falletio event, and this is another glimpse of her daredevil willingness to comply any cinematic challenge. it leaves you wonder if it's cleverly worthwhile or appropriately done in chloe's trials. besides the explored field on this episode is mainly on the functionablity of lesbian sex between one tank dyke and one lipstick lesbian. the last tale would be sharon stone and ellen degeneres married together in the modern time, attempting to purchase some semen for ellen to inject into sharon stone so stone could be conceived with "their" baby. they demonstrate how much they're in love and how well they conduct together to broadcast some user-friendly lesbian bond notion. somehow you cannot help but feel sorry that sexy sharon stone gets confined by mannish ellen. why wouldn't she just get laid by some real guy instead of sticking to her lesbian commitment? somehow peculiarly absurd. another political poise of this genre. inevitably the viewpoints stated here might be biased in a way, but a good flick would transcend the surroundings to win audience's heart in every category instead of being made for a narrowed group of people. but the first tale of elder schoolteachers are indeed emotionally infiltrating with their authentic sadness which is very sympathetic and that could be recognized universally.
Veronique Kwak
Super Reviewer
An excellent sort-of sequel. Extremely sad, but also compelling and hopeful.
Sarah Prisbylla
Super Reviewer
If These Walls Could Talk 2 Quotes
There are no approved quotes yet for this movie.