Igby Goes Down
(2002)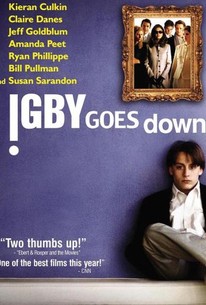 Movie Info
Meet Igby Slocumb. He's an angry, rebellious and sarcastic seventeen-year-old at war with the stifling world of "old money" privilege into which he was born. Igby's life and family seem one way on the surface, but he's figuring out things are completely different underneath. His father, Jason, is away "recuperating from life" after a sad slide into schizophrenia. His mother, Mimi, is fierce, distant and self-absorbed, with a long-term dependency on "little peppies" to get her through the day. And his older brother, Oliver, is a shark-like young Republican on the fast track to materialism at Columbia University. All in all, Igby figures there's a better life out there, and therefore, sets out to find it. After flunking out of yet another prep school, Igby is sent to a Midwest military academy, and from there, with his mother's pilfered credit card, he goes on the lam. His darkly comedic voyage eventually leads to New York, where he hides out at his godfather's weekend pied-a-terre. Avoiding his family, Igby falls in with a host of questionable characters, including his godfather's trophy girlfriend, her flamboyant pal Russel, and the terminally bored Sookie Sapperstein. In his quest to free himself from the oppressive dysfunction of his family, and in his search to figure out what he wants for himself, Igby's struggles veer from comic to tragic in an ultimately noble attempt to keep himself from "going down."
Critic Reviews for Igby Goes Down
Audience Reviews for Igby Goes Down
An indie film from writer and director Burr Steers, this film follows the disenchanted life of a teenager in the world of the socially elite in his quest to remain untouched by his beginnings and venture into the underbelly of New York City. Steers has said that he originally wanted to write this as a novel instead of a movie, and the prose-like quality of the story comes through very well. This film is most reminiscent in tone to the writings of Augusten Burroughs, thanks to the lead character's rebellion from his family, being young and yet casual about sex, and living in different places but not having a clear home. His story starts with his father being diagnosed as schizophrenic, and his mother committing him to a home. Igby flunks out of prep schools, eventually landing himself in military school. He runs away to New York to meet up with an artist that his godfather is seeing behind his wife's back. The artist in question (Peet) has many issues connected to her lover's animosity towards her, and this leads to her own breakdown, witnessed by Igby at several intervals. She also has a friend who is a cross-dressing performance artist, and Igby takes up with a former Columbia student turned waitress, forming a kind of oddly arranged family in the city. His brother ultimately intervenes, and his mother, but Igby only flees them time and again, trying to run from his mother's bitter tirades, his brother's conservative and mature musings on his state, and his informal family crumbling before his eyes. This hits particularly strongly when it comes to Igby shifting between places to sleep as everyone unwinds around him, making his life unstable and yet tentatively epic. This dysfunction is well captured in a very composed performance from Kieran Culkin, another indie rave performance from Amanda Peet, a very low key and yet memorable one from Ryan Philippe, and Claire Danes in yet another role as a disenchanted young woman with her own severe problems. I guarantee that this film will make you swoon for the literary works of Kerouac, Burroughs, and Salinger.
Spencer S.
Super Reviewer
Cast: Kieran Culkin, Susan Sarandon, Jeff Goldblum, Claire Danes, Ryan Phillippe, Bill Pullman, Amanda Peet, Jared Harris, Rory Culkin Director: Burr Steers Summary: A teenager tired of being ignored in deference to his older brother (Ryan Phillippe), Igby (Kieran Culkin) escapes to New York City without his family's knowledge, where he meets and falls in love with another outsider (Claire Danes) who makes him realize he's not so alone in the world. But Igby also soon realizes he can never completely bury his past. My Thoughts: "Kieran Culkin portrayed all the angst and bitterness his character was feeling quite well. Igby's life is rough. His mother, played by Susan Sarandon, is very manipulative and condescending. Sarandon is pure genius as the mother in this film. You can feel all the frustration, anger, and yet sadness Igby feels towards his mother in the end. It's quite intense and emotional. There are plenty of complicated character's to keep your interest and keep you caught up in the story. Of course Rory Culkin was the best pick to play the young Igby considering they are brother's and look a lot alike. Every one of the actor's put in great performances. A film to see if you haven't."
♥˩ƳИИ ƜѲѲƉƧ♥
Super Reviewer
This represents something of a dry run for an updated Catcher in the Rye. It's a biting and caustic dark dramedy about Igby Slocumb- a rich and sardonic rich kid who hates his family and rebels at every chance he gets, trying to find an existence he can be happy with. His mother is a pill popper who comes from old money and is very overbearing. His father is schizophrenic and currently resides in an institution. His older brother Ollie is the type of well to do college guy with nothign but success in his future. And then there's Igby's godfather D.H., a wealthy and powerful guy whose status as Ollie's benefactor sees him play a rather questionably larger than normal role in his life for a non-mafia godfather. On his road to rebellion, Igby goes from school to school, then military school before ending up crashing in on New York's bohemian scene where he gets invovled with D.H.'s trophy mistress Rachel, her artist friend Russell, and a nice older, bored Jewish girl named Sookie. This is a big mix of satire, colorful characters, wittiness, humor, and pathos. It's also rather twisted and pretty weird at times. It's a well done nad entertainign film, though I did make the mistake of watching it in a double feature with The Squid and the Whale. Now my chances of having a happy rest of the day are pretty well non-existant. Oh well. At least the movies were good. Keiran Culkin is great as Igby, and, even though he's not yet achieved the household name recognition of Macaulay, he's definitely the more accomplished and better actor. Susan Sarandon seems to be having fun as Igby's mother Igby, and Ryan Phillippe excels as doing characters such as Ollie. Even if it is typecasting, he's still solid. Jeff Goldblum just radiates awesome smarminess as D.H. and I enjoyed (just about) every moment he was on screen. Claire Danes is terrific as Sookie, and Amanda Peet is really good as Rachel, and I'm jealous that Culkin (his character, rather) got to hook up with both of them. Bill Pullman's role is limited, but important, and he does a nice job. Harris is just batty, but fun. As a big fan of Catcher in the Rye, I dug this, even though it didn't grab me as mucch as that one did (or at least used to). In many ways I'm still very much like the leads from both wroks and can relate to them, despite being a bit older and having a more mature take on the world than I used to. All in all, this is good stuff, though it's not gonan be for everyone. If you like snotty rebellious bohemians and don't always see the glass as half full, I think you'll find something to enjoy here.
Chris Weber
Super Reviewer
Igby Goes Down Quotes
There are no approved quotes yet for this movie.