I'll Follow You Down
(2014)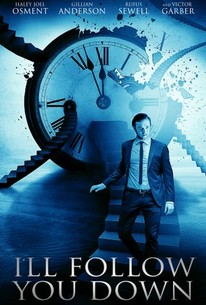 I'll Follow You Down Photos
Movie Info
An accomplished physicist mysteriously disappears on a business trip. Abandoned, his wife and son struggle to cope. Years later, now a young scientist himself, Erol uncovers papers, formulas, a machine, and a mind-bending possibility. But time travel is impossible. Isn't it? Erol's obsession to find his father and restore his family will throw him into the unknown and possibly threaten his life. What would you do to repair the past? Starring Academy Award Nominee Haley Joel Osment (SECONDHAND LIONS, THE SIXTH SENSE), Gillian Anderson ("The X Files"), Rufus Sewell (DARK CITY), and Victor Garber ("Alias"), I'LL FOLLOW YOU DOWN is a sci-fi exploration of wormholes, parallel universes, love, and the possibility of starting over. (C) Well Go USA
Critic Reviews for I'll Follow You Down
Audience Reviews for I'll Follow You Down
½
An interesting enough plot that has the potential to be better than what Was delivered!
Film Crazy
Super Reviewer
A solid time travel drama that focuses more on the characters and not necessarily on the science behind it. There's nothing about this movie that's really all that completely unique to it. All the basic arguments about time travelling are there. It's selfish to change so many peoples' lives without their input, how alternate timelines are created as a result of time travel and just what the consequences of it are, whether it's worth it because maybe things are supposed to be the way they are and no amount of manipulating will change anything. So, again, like I said, there's nothing about this movie that's really unique to it. But, as I've always said, a movie doesn't have to add anything new of its own to the canon, as it were, in order for it to be good. What the film does benefit from is from a committed cast and a good script. The film may have its flaws, as I think it's too humorless for its own good. I realize the necessity for a more serious approach in telling this story, but that doesn't mean the film can't have a bit of a laugh or two here and there. I don't know, but that's just me. And there's also the fact that, I think, it relies too much on the same arguments for its drama. It just repeats them over and over again. I guess that, deep down, these are really the most relevant themes in the film, so I don't blame them for that, but it also gets tiresome after a bit and you wish they'd move on to something different. There's also quite a bit tech talk, so you better be paying attention during those scenes or else you will be confused. Not confused for the rest of the film, just that particular scene in question. I think the movie does a good job at not making itself about the technology behind it and more the motivations for why Erol wants to go back in time in order to get his dad to come back alive. Which is one of the more 'surprising' elements the film has to offer as its ending is actually really good. It wasn't necessarily unexpected, if you connected all the dots, then the ending won't be that surprising. It's just the execution of it, as it really does come out of nowhere. Let's just say that Erol did the one thing that would force him to come back to the year 2000 from his 'business trip'. I'm pretty sure that spoils everything, but it is what it is. I thought the film was well-paced, and it's not that long, so it doesn't overstay its welcome, thankfully. This review has gone long enough, this is a good little movie. Not without its flaws, of course, but I largely enjoyed it. I'd recommend it if you have Amazon Prime.
Jesse Ortega
Super Reviewer
Haley Joel Osment leads the cast in the sci-fi thriller I'll Follow You Down. Years after his father mysteriously disappeared, Erol learns that he was working on a time-travel devise and continues his father's research in hopes of finding a way to fix the past. Co-starring Gillian Anderson, Victor Garber, and Rufus Sewell, the supporting cast is quite strong. But it's up to Osment to carry the film, and he lacks both the range and the depth that the role calls for. Still, the time-travel premise and the moral questions that arise are quite intriguing. Yet despite the rich material, I'll Follow You Down ends up being rather boring and monotonous.
Dann Michalski
Super Reviewer
I'll Follow You Down Quotes
There are no approved quotes yet for this movie.