I'll Never Forget You (The House in the Square) (Man of Two Worlds)
(1951)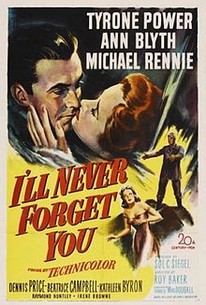 AUDIENCE SCORE
Critic Consensus: No consensus yet.
I'll Never Forget You (The House in the Square) (Man of Two Worlds) Photos
Movie Info
I'll Never Forget You is an updated remake of 1933's Berkeley Square; both films used John L. Balderston's stage play as a launching pad. Tyrone Power stars as an American atomic scientist working in London. He lives in an ancestral home which dates back to the 18th century. Late one rainy evening, Power is struck down by lightning just as he enters his home. When he awakens, he finds himself transported back to the 1700s, in the person of his own ancestor. As he falls in love with his beautiful cousin Ann Blyth, Power tries to bring some 20th century technology to his "backward" forebears (this is a departure from the original Berkeley Square, in which the hero so loved the 18th century that he wanted to become part of it). Branded as a lunatic for his "hallucinations" of the future, Power is about to be carted off to Bedlam when he lapses again into unconsciousness. He awakens in his own time, to discover that his long-ago love Ann Blyth was so enamored of him that she died young, without ever marrying. At this point in the original play, the hero shuts himself off from the world, to await his ultimate reunion with his lost love in the afterlife. But I'll Never Forget You couldn't do that to virile matinee idol Tyrone Power, so the adaptors contrive to have him meet a woman who looks just like the girl he left behind 200 years ago. In the tradition of The Wizard of Oz, I'll Never Forget You opens in black and white, then switches to color when Power is sent back in time. ~ Hal Erickson, Rovi
Audience Reviews for I'll Never Forget You (The House in the Square) (Man of Two Worlds)
½
Starts out rather shakily in a modern setting but finds it's footing once the period portion of the film commences. Still a rather florid romance all the way up to the odd moody ending but handsomely produced with a good performance from Power.
I'll Never Forget You (The House in the Square) (Man of Two Worlds) Quotes
There are no approved quotes yet for this movie.