I'll Sleep When I'm Dead
(2004)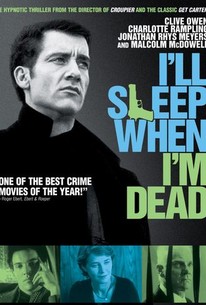 TOMATOMETER
AUDIENCE SCORE
Critic Consensus: I'll Sleep When I'm Dead's spare performances and slick style are undermined by a lack of cohesive story, yielding a neatly packaged noir with little substance beneath its polished surface.
I'll Sleep When I'm Dead Photos
Movie Info
For I'll Sleep When I'm Dead, director Mike Hodges re-teams with Trevor Preston, the respected British television writer with whom he made a series of documentaries for ITV back in the 1960s. The film also brings the director together again with actor Clive Owen, the star of his previous film, Croupier, which signaled Hodges' resurgence. Owen plays Will Graham, a former London gangster who moved out to the country after suffering a breakdown of some sort. Will works clearing forests, and lives out of his van, until he loses his job over a lack of proper documentation. Meanwhile, Will's younger brother, Davey, is enjoying his life as a womanizing man about town, and dabbling in drug dealing, until one night, when an older man, Boad (Malcolm McDowell), has him followed and brutally assaults him. The traumatized Davey returns home and takes his own life. Will, uncertain as to where to go, finds himself drawn back to London, where he learns of Davey's death from Mrs. Barz (Sylvia Syms), his landlady. Will investigates what happened that night with his old friend, Mickser (Jamie Foreman). As Will tries to piece together what happened, he goes to visit Helen (Charlotte Rampling), his former lover, who is less than thrilled to see him after he abandoned her years earlier and eventually cut off all contact. The current neighborhood crime boss, Turner (Ken Stott), knows what Will is capable of, and sees him as a threat. Eventually, Will uncovers the truth, and is faced with the unpleasant prospect of avenging Davey's death. Screenwriter Preston took the title for the film from a sardonic song by the late Warren Zevon. ~ Josh Ralske, Rovi
Critic Reviews for I'll Sleep When I'm Dead
Audience Reviews for I'll Sleep When I'm Dead
I'm sure there are other films that have wasted their great casts as miserably as this, I just can't think of any right now. Clive Owen's character is stoic to the point of mannequin-ism, Malcolm McDowell shows up for five seconds and rapes Jonathan Meyers (who dies in the first 45 min) and Charlotte Rumpling isn't even playing British royalty! If there's any statement in this film at all it's the glaring black hole that is the total and utter lack of direction. It seems Mike Hodges' "wander until it looks right" technique wasn't so groundbreaking after all...shame really.
Brett Warren
Super Reviewer
Clive Owen, Jonathan Rhys Meyers, Brian Croucher, Charlotte Rampling, Malcolm McDowell, Marc O'Shea, Damian Dibben DIRECTED BY: Mike Hodges It doesn't really matter what this film was about. All I know is that it not only had Clive Owen in it but it also had Jonathan Rhys Meyers in it and it still couldn't keep me interested. It was by far the most boring thriller I have ever seen, maybe the only. This is what I would call a sleepy thriller. I did shut my eyes a couple times and didn't even miss a thing. Just very disappointed. I had wanted to see this and the trailer made it look like it would be a decent thriller. Lies.. LOL.. Also the actress Charlotte Rampling plays Owens past love interest. Is it just me or did she seem a bit old for the part? I had thought she was their mother.. My mistake I guess.. Anyways, most of the time I say see it for yourself since all our tastes are not the same, and I will do so with this one as well. Maybe it's from the long day that I have had that I felt that this movie was sleepy.. or I was just sleepy.. Maybe I should watch it again.. but I am certain I will come to the same conclusion... Boring and disappoiniting..
♥˩ƳИИ ƜѲѲƉƧ♥
Super Reviewer
Utterly boring! It shows no sign of excitement until more than half way through. The best part of the film is definitely near the end.
Lady D'arbanville
Super Reviewer
I'll Sleep When I'm Dead Quotes
There are no approved quotes yet for this movie.