The Illusionist
(2006)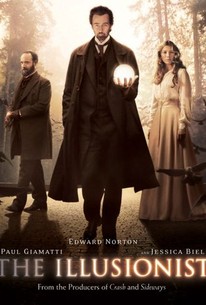 TOMATOMETER
AUDIENCE SCORE
Critic Consensus: The Illusionist is an engrossing, well-crafted story of mystery, magic and intrigue that is certain to enchant, if not hypnotize, audiences.
Movie Info
Set in early 20th-century Vienna, a stage magician uses his magic to win back the great love of his life from a brutal enemy, her fiance, who is also the powerful crowned prince of Austria.
News & Interviews for The Illusionist
Critic Reviews for The Illusionist
Audience Reviews for The Illusionist
[img]http://images.rottentomatoes.com/images/user/icons/icon14.gif[/img]
Directors Cat
Super Reviewer
Similar, but ultimately different from The Prestige, this is a moody and gorgeous romantic drama with magical overtones. Set near the end of the 19th Century in Vienna, this is a fictional tale based on a short story that inserts itself into some fictionalized retellings of actual events. Eisenheim is an illusionist who specializes in some acts that border on the supernatural. He captures the imagination, then ire of Crown Prince Leopold when he makes a move on Leopold's lady, the Duchess Sophie von Teschen- a woman whom Eisenheim tried to romance when they were younger, but was foiled due to her being of a far higher social standing. Eisenheim's renewed efforts also attract the attention of Leopold's chief inspector Uhl, but due to events I won't discuss here due to spoilers, he finds his loyalties shifting the more he investigates Eisenheim and his doings. Shot with a unique filter, this comes off like a relic from the past. It feels like an old-timey picture, and I friggin' loved that. It gives the film some unique sensibilities, and shows a great level of care and attention to detail. Yes, the film inserts fiction into actual events, but I didn't have much of a problem with it, and thought it worked quite nicely. Besides a great look, the film has excellent costumes and period details, and the score by Philip Glass is haunting and beautiful. The film is about magic, but it's more or less a classic story of star crossed lovers that uses magic as a plot device. I was fine with this. Yes, there are some typical trappings of films with this subject matter, but I never felt cheated, or lost. Edward Norton is great as Eisenheim, Paul Giamatti is fun as the obsessively determined Uhl, and Rufus Sewell is strong as Leopold. He kinda reminded me of Jude Law, too, which is cool. The only real weak link here is Jessica Biel as Sophie. Yes she's gorgeous, but while she's not totally awful, she seemed like she was acting in a school play, and it all felt kinda flat and lifeless. Her aside, this is a quite engaging and captivating film. Give it a look.
Chris Weber
Super Reviewer
what if they made a twilight zone episode as long as a movie, and then didn't tell you that that's what it was...then you would have this movie: mysterious, romantic, childlike and wondrous. a not-too-chick-flick chick flick. cloaked in the velvet musical tapestry of Philip Glass, and the excellent performances of all involved.
Kevin M. Williams
Super Reviewer
The Illusionist Quotes
| | |
| --- | --- |
| Chief Inspector Uhl: | You can't destroy him you know. You can't bring down the Monarchy! |
| Eisenheim: | I know I can't. |
| Chief Inspector Uhl: | Then don't raise her again! Don't provoke those questions! [Short Pause] Eisenheim I don't want to arrest you. I'm a cynical man, God knows. But if your manifestations are somehow real, then even I am willing to admit you're a very special person. And if its a trick, then its equally impressive. Either way you have a gift, so don't make me put you in jail! Promise me you won't do it again! |
| Chief Inspector Uhl: | Then don't raise her again! Don't provoke those questions! [short Pause] Eisenheim I don't want to arrest you. I'm a cynical man, God knows. But if your manifestations are somehow real, then even I am willing to admit you're a very special person. And if its a trick, then its equally impressive. Either way you have a gift, so don't make me put you in jail! Promise me you won't do it again! |
| Eisenheim: | I promise you, you'll enjoy this next show. |
| Chief Inspector Uhl: | What do you want? |