Happily Ever After
(2005)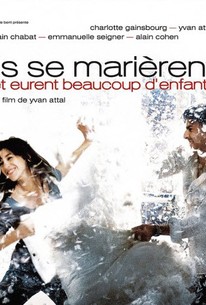 Happily Ever After Photos
Movie Info
Writer, director, and actor Yvan Attal takes another look at the ups and downs of love and monogamy in this biting romantic comedy. Vincent (Yvan Attal), Fred (Alain Cohen), and Georges (Alain Chabat) are three Parisian men in their early forties who are coming to the unfortunate realization that their love lives are not what they dreamed of in their youth. Vincent is married to Gabrielle (Charlotte Gainsbourg), and while there's still some spark left in their marriage, it usually appears only after an argument. Vincent is having a furtive affair with a beautiful woman (Angie David), while Gabrielle is tempted to do the same when a handsome man in a record shop (Johnny Depp) begins silently flirting with her. Fred is the bachelor of the group, and seems to have an endless parade of women passing through his bedroom, but no one misses the fact that he longs for the sort of long-term relationship that has so far evaded him. And Georges is reaching the end of his rope with his wife, Nathalie (Emmanuelle Seigner), an abrasive feminist who insists on making every aspect of their lives a political matter, but lacking the courage to break up with her, Georges deals with his feelings in the traditional manner -- he buys a new car. Happily Ever After was Attal's first project as writer and director after his international hit Ma Femme Est une Actrice.~ Mark Deming, All Movie Guide
Critic Reviews for Happily Ever After
Audience Reviews for Happily Ever After
An interesting study of three men who are friends, in different marital situations, and who have different approaches to love and happiness. It explores fidelity and what constitutes happiness within the family unit. Charlotte Gainsbourg is lovely in this as Gabrielle, wife of Vincent (Yvan Attal). Some bizarre games transpire between these two and the cover art is taken from one of those playtimes. Lots of interesting camera work, a lively script, and some lovely actors keep things from becoming too trite, but it's not all that deep either. Mildly entertaining at best.
Mark Abell
Super Reviewer
this is a really realistic story and fine acting especially by the core cast. The only problem i had with it is the ending seems to be inserted smack dab in the middle of the story, which left me a bit confused. Its a bittersweet tale about marriage; an old subject to be sure, but refreshing with this french perspective. Enjoy!
½
i really enjoyed this film's cross-section of people dealing with various facets of coupledom, love, fidelity, marriage, etc. the elevator ride with johnny depp was quite poetic and a wonderful close to the film.
Stefanie C
Super Reviewer
Happily Ever After Quotes
There are no approved quotes yet for this movie.