Ilya Muromets
(1960)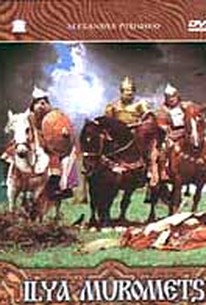 AUDIENCE SCORE
Critic Consensus: No consensus yet.
Movie Info
The original Russian title of The Sword and the Dragon was Ilya Muromets. Boris Andreyev plays the title character, a legendary Russian hero of the Middle Ages. Fact and fantasy meld copacetically as Muromets does battle not only with human adversaries but with three-headed, fire-breathing dragons and other such obstacles. Special effects in Soviet films of the 1950s generally seem to be of the "Howdy Doody" school; not so the effects in Sword and the Dragon, which retain their razzle and dazzle even after 40 years' worth of Kubrick, Lucas, Spielberg and the like. Sword and the Dragon was released in the U.S. in 1960, shorn of several minutes' running time. ~ Hal Erickson, Rovi
Critic Reviews for Ilya Muromets
All Critics (1) | Fresh (0) | Rotten (1)
A costly Russian yarn that, to be fair, might have been a decent watch in its original tongue. But this dubbed edit (trivia note: a pre-60 Minutes Mike Wallace provides the narration!) is too clunky to be taken seriously.
Audience Reviews for Ilya Muromets
Watching some of the old MST3K episodes available for streaming on Hulu and Netflix (there is a different random selection on each platform). Whether it is Joel or Mike watching these awful movies with the bots I do not envy their torture. Their snarky comments add some entertainment value, but my ratings are based on the movie's quality itself and not the commentary broadcast from the satellite of love. AKA The Sword and the Dragon. Russian director Aleksandr Ptushko had two films featured on MST3K, this one and Sampo AKA The Day the Earth Froze. This time we get a Russian Medieval myth with the story of our hero Ilya Muromets becoming a knight and great leader. Lots of fantasy magic and a convoluted plot that again American audiences may have trouble following because these myths and characters are not things many of us are familiar with from childhood. The barbarian hordes seem based on the Mongols and Genghis Khan. Almost cartoonish in shot composition, effects, character development, and action.
Byron Brubaker
Super Reviewer
[font=Century Gothic]In "Ilya Muromets," the Tartars arrive in town for their occasional looting and pillaging, taking Vasilisa(Nelli Myshkova) with them. Her love Ilya Muromets(Boris Andreyev) can do nothing to stop them since he is paralyzed. Soon after, a group of pilgrims show up and not only heal him, but also endow him with superhuman strength.(At this point, Ilya faces his greatest test when is interrogated by a pack of feral sportswriters.) Not content to simply plow the land, he heads off to Kiev to sign up with Prince Vladimir's(Andrei Abrikosov) resistance who has his doubts until Ilya dispatches the Tartar ambassador sent by Tsar Kalin(Shukur Burkhanov).[/font] [font=Century Gothic][/font] [font=Century Gothic]"Ilya Muromets" is a corny and ludicrous movie that fails even as nationalistic propoganda as it makes the Tartars out to be particularly cartoonish. Everything imaginable short of the kitchen sink is on display but the action is never grounded in any sort of human emotion. And while I would never stoop to pick on primitive special effects, bad editing is quite another matter.[/font]
Ilya Muromets Quotes
There are no approved quotes yet for this movie.