I'm a Cyborg, But That's OK (Saibogujiman kwenchana)
(2006)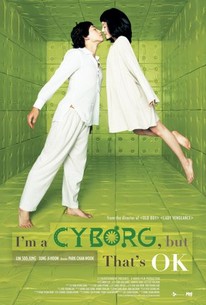 I'm a Cyborg, But That's OK (Saibogujiman kwenchana) Photos
Movie Info
Young-goon is admitted to a mental institution. Believing herself a cyborg, she charges herself with a transistor radio. Il-soon, a fellow inmate, steals the other inmates' personality traits and believes he is fading and will one day turn into a dot. When Young-goon refuses to eat, Il-soon decides it's his job to get her on her feet again. This charming, tender and visually arresting film cements Park Chan-wook's reputation as one of the most gifted and stylistically playful filmmakers working today.
Critic Reviews for I'm a Cyborg, But That's OK (Saibogujiman kwenchana)
Audience Reviews for I'm a Cyborg, But That's OK (Saibogujiman kwenchana)
½
Original, but really not a fan. The asylum setting is tedious and I hate the cyborg stuff.
Nicki Marie
Super Reviewer
½
"I'm not a psy-cho. I'm a cy-borg."
Randy Tippy
Super Reviewer
what inspires me into seeing this movie is an essay called "cyborg manifesto." it describes the condition of third-world females as the cyborg humans who offer their human resources in those high-tech factories which produce latest eletronic goods while the third-world males are castrated by the social non-producitivity (un-employment). as for the idea od cyborg, in addition to the mundane understanding of it as a robot, cyborg symbolizes the collapse of boundaries since the essence of cyborg is miscellaneous while the concept of culture is distinctively demarcated by various systems drivated from binary oppositions (human/animal; man/woman..etc.) thus, cyborgs are the marginalized outsiders segregated right on the borderline. this movie "i'm cyborg but that's ok" is a female mental patient who fantasizes herself as a cyborg while her fellow male inmate schemes great many ways to rescue her from her deliberate starvations. there're also many sequences of dreams which would remind you of that famous french movie "amelie" which celebrates the magnitude of dreams as the poise of naivete is mighty enough to redeem misery and reverse catastrophes, at least within your mind. the idea of insanity also suggests a collapse of boundaries as the movie chooses to overlap the idea of cyborg with insanity. the only difference between genuine cyborg and insanity is the place of subjective identity, and the woman in this case aims to eliminate the sentimental subjectivity within her so she could rid of the empathetic pain she feels toward her neglected grandma who also fantasizes herself as a mouse. deluding herself into a cyborg is a course of self-reification as she metaphorically askes the man to thieve away her sympathy and her senses, which turn this apathetic society into something intolerable. but she cannot change the world but herself, therefore she is a cyborg. funnily, the woman in this movie also works in an eletronic factories. the first seuqence of the movie features her wrist-cutting herself, plugging a wire inside her veins then turning on the eletricity to eletro-shock herself. but there's nothing defiant in her attempt of self-mulitation, all she wishes is a peace of mind which is denied due to emotional alienation. her profession as worker in an eletronic factories coincides with the mockery of third world woman in "cyborg manifesto" and she chooses no resistance but settles in a secluded asylim where she meets another socially dysfunctional inmate who loves her. cyborg-dom here is a menchanism devised by the individual as inward survival. despite how sweet their love is, but they still remain discriminated within a district of their own, which grants them aesthetic salvation - the magnitude of dreams, while everything out there maintains its status quo: she still stays within the asylum, those relatives who mistreat the grandpa are still carring their selfishly content lives outside without a strike of condemination. in a nutshell, "i'm a cyborg but that's ok" is an aesthetic haven which is designed to be apolitical, non-involved in the domain of ideology. but strangely that non-involvement attempt itself is also a passive statement of postmodernity where individuals, or let's say third-world female individuals. yield to a voluntary self-lobotomization due to the void of personal empowerment.(since she IS a cyborg, but she says that's ok) in other words, it's a pessismistic statement of non-action wrapping itself up with farcical rejoice just to cover some un-speakable pain.
Veronique Kwak
Super Reviewer
I'm a Cyborg, But That's OK (Saibogujiman kwenchana) Quotes
There are no approved quotes yet for this movie.