I'm All Right Jack
(1960)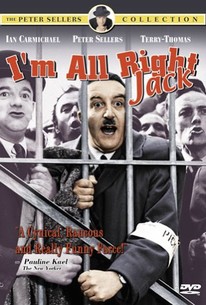 Movie Info
Set in a missile factory, the film focuses on Stanley Windrush, an upper-class graduate who innocently accepts a job at his uncle Bettram Purcel's factory. Unbeknownst to Stanley, his uncle has an agenda where he plans for his nephew to become the catalyst of a labour dispute, which his uncle hopes to profit from. Unfortunately for Bettram his plan backfires when his socialist employee Mr. Kite takes advantage of the opportunity for his own gain.
Critic Reviews for I'm All Right Jack
Audience Reviews for I'm All Right Jack
½
For me, this is the best film of all time. A superb cast of the UK's finest character actors and an A1 script. Peter Sellers was truly magnificent as the left wing union shop steward and Terry Thomas excelled in playing the two faced Personnel Manager. Among his classic comments are "The Management have behaved like absolute stinkers" when talking to the union and " They are a complete shower" when talking to Management about the unions. Another fine comment is when on being told that some bigwigs are visiting the factory, Terry Thomas replies "You better spruce the place up a bit, you know soap in the toilets, that sort of thing". I must have seen this film at least 20 times and I never grow tired of it. Great story, fine comedy and great acting. Never has a film handled the issue of industrial relations in such an amusing and pertinent manner.
Cassandra Maples
Super Reviewer
½
Sharp but somewhat dated satire about unions, strikes and industry in 1950s Britain. The opening scene in the candy factory is a riot -- I wish the rest of the film were as funny. Favorite little details: Peter Sellers' purposeful walk and patsy Ian Carmichael's steady stream of "terribly sorry"/"frightfully sorry" apologies.
Eric Broome
Super Reviewer
I'm All Right Jack Quotes
There are no approved quotes yet for this movie.