Imaginaerum
(2012)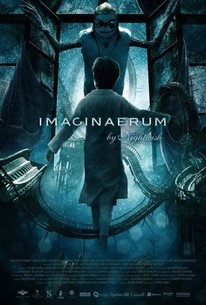 AUDIENCE SCORE
Critic Consensus: No consensus yet.
Movie Info
A coma sends an old man into his childhood's sinister fantasy world, where he must fight dementia and gain back his memories before it's too late.
Critic Reviews for Imaginaerum
There are no critic reviews yet for Imaginaerum. Keep checking Rotten Tomatoes for updates!
Audience Reviews for Imaginaerum
It's essentially an 80 minute Nightwish music video - make of that what you will.
Marcus Woolcott
Super Reviewer
I love musicals. I don't know why it is that I love them, but something about a world where everyone tends to break out into song and dance just captivates me. It's indescribable. Like, take a musical like 'Repo! The Genetic Opera', for example. In that film, while no where near as great as the film I am reviewing (though I do rank this higher on my list of favorite films), the world and the idea of the film is what makes me love it. The fact that people sing in it tends to just add more to the greatness of their world (not always the case in some musicals, like Les Miserable). When I was younger, my father introduced to me various different musicals, the main two being The Who's Tommy and Pink Floyd's The Wall. What separated them from other musicals at the time was how they started off as concept albums, but then became great films. I always love knowing what it is that tends to go through people's minds when they hear music, seeing what images the artists that they are listening to come into play. Now, this trend of adapting albums into films wasn't short lived, and I think we know who to blame (the only time, in my knowledge, the Beatles have screwed up). But then, lo and behold, one of my all time favorite bands wants to bring back this style. I tend to see myself as having a personal connection with the Finnish Operatic Metal group Nightwish. I remember being in Middle School, and next to Dio era Black Sabbath, the lyrics of Holopaine and the voices of Tarja Turnen and Annette Ozone got me through so much. Like all fans of Nightwish, the first Annette album 'Dark Passion Play' didn't do that much (though now it has really grown on me). It would not be until the album 'Imaginaerum' that I finally came to terms with her being the voice of Nightwish (until she left the band and we now have Floor Jansen doing vocals). The album of Imaginaerum is as near a perfect album as one can get. As a concept album, the story of finding your imagination and your childhood is shown clearly while every song being great on it's own terms. While listening to the album, you get these images of dreams, nightmares, love, and lust in your mind and it is done so vividly that you can't help but love them and the songs in general. Hey, you know what would be great? A film adaptation. Thankfully, we got just that. It is not easy for people to really track down and watch this film, unless you have no problem pirating the film off some sites in okay quality. But, I did what I could and I saw the film a year ago. Even now, the film is still stuck in my head. The story of the film is basically a poetic of suffers dementia goes through his memories to find out who he is, why he can't remember anything, and this mysterious snowman that talks to him. I was surprised that this is what Tumous Holopaine (who acts in this film, along with all the band members) had in his mind and I was blown away. The fact that this is what he thought of kind of shows me his own mind and how he thinks. A reoccurring theme in the music that he write is that of innocents and childhood and dreams, themes that this film showed. It was a delight to see such things with his music playing. But, we all know that the scene that stole the entire film is that of the 'Scaretale' sequence. Of everything, that is the scene that still makes me speechless. Not only is it wonderful to hear such a great song being performed, but how it was shot, the costumes everyone is wearing, and even what the main female character does is just... breathtaking. I know it is a dark and kind of horrifying scene, but it just takes your breathe away because it represents that song so well. Every scene in this film really does pack the emotion of the song from the album it represents. Sadly, only two songs (Scaretale and Slow Love Slow) are performed int the film, but the score for this film goes back to the original album and just breathes new life into this music. I know of all my reviews, this one might get some people mad because I keep going back to the album. I won't apologize because it is impossible not to talk about this film without mentioning the album. Does this film work on it's own? Without a doubt. This film is just one great musical/ fantasy film and, in a way, a great look into child psychology with the main boy (Tom) and his Snowman plus his relationship (Tom's) with his father and when Tom is older and with his own daughter. If this film would have been more successful, then this could have started such a revolution of musicals being darker and more serious without it being annoying. This film is, beyond under-appreciated.
Zach Brehany
Super Reviewer
Imaginaerum Quotes
There are no approved quotes yet for this movie.