Imagine Me & You
(2006)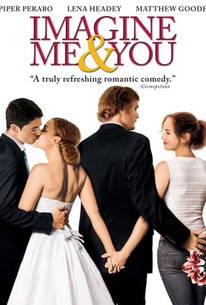 Movie Info
Imagine you are getting married. The big day has arrived. You're walking down the aisle on your father's arm and your eyes meet the eyes of the person you know you're going to spend the rest of your life with. Then, imagine that that person isn't the nervous man standing next to the vicar. It isn't a man at all. It's the woman who's been employed to do the flowers in the church. "Imagine Me and You" is a funny and fresh romantic comedy about that undeniable moment of knowing that someone is the right someone for you.
News & Interviews for Imagine Me & You
Critic Reviews for Imagine Me & You
Audience Reviews for Imagine Me & You
½
What a nice freakin' movie. Very sweet and British. I rather like Heck's "If you had any respect for me at all, that's exactly what you WILL do [leave him]" and Rachel's, "What do you mean?" after Heck claims this was all her choice. She doesn't say yes or no; she's conflicted as to whether love is a choice at all. However, I can't help but think the audience wouldn't be as forgiving of this extramarital tryst if "the other woman" was a man. A wife falling in love at first sight with a man other than her husband...well, that's just her succumbing to lust. A wife falling in love at first sight with a woman...well, that's just her following her heart. In either scenario - if they're believed to be earnest - there is both succumbing to lust and following of hearts. The movie assumes a slight double standard of homosexual affairs being more forgivable than heterosexual affairs, that one diverse population holds the monopoly on suffering, so they should be able to get away with certain crimes. I'm not saying the movie straight-up champions this; I just wonder how much of my liking of the movie is based on this forgiveness, and how much of a PC hypocrite that would make me. Lastly: such a very nice use of title song!
Alice Shen
Super Reviewer
½
Still a good movie rewatching years later, but got to admit a few things bother me about it now which never did when I first watched it. I must have been a lot more romantic in my younger days, because this doesn't ring true at all. It's sweet, don't get me wrong, but not realistic. Would you really leave someone you just married not long ago for someone else (not even getting into the gender of that person)? A boyfriend perhaps, but a husband? You'd really want to be very sure that you were leaving him for something real and not just an infatuation. Things really hadn't gone far enough with the girls to be certain it wasn't just a crush/attraction worth leaving a marriage for. Especially when your husband is really nice and not a rat like you frequently see in this storyline. That aside, nice rom com, likeable cast, even a child actress who isn't cloying. Oh, and Anthony Head - didn't even realise he was the dad in this!
Nicki Marie
Super Reviewer
Funny. Charming. Sad for him...even though they did attempt to make us not feel too bad for Matthew Goode by the end. Stick around post credits. All became right by him...
Cynthia S.
Super Reviewer
Imagine Me & You Quotes
There are no approved quotes yet for this movie.