Imagining Argentina
(2004)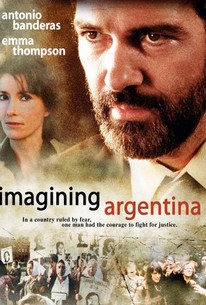 Imagining Argentina Photos
Movie Info
In Buenos Aires during the Peron era, an Argentine playwright has a preternatural ability to see what will happen to people's loved ones -- many of whom are missing, or soon will be -- when he looks into their faces. Ultimately, he must turn this power inward, when his activist journalist wife disappears.
News & Interviews for Imagining Argentina
Critic Reviews for Imagining Argentina
Audience Reviews for Imagining Argentina
½
It is, yes, well-intentioned but that doesn't compensate for its silly, heavy-handed execution full of artificiality, shallow dialogue and cartoonish villains - and Banderas' character acts so irrationally that I find it unbelievable that he is not killed before halfway through the story.
Carlos Magalhães
Super Reviewer
½
In "Imagining Argentina," Cecilia Rueda(Emma Thompson), a journalist, is snatched off the street by armed men in Buenos Aires in 1976. Eight weeks later, her husband Carlos(Antonio Banderas), a theater director, is still at a loss as to her disappearance. While he does his best to take care of his teenaged daughter Teresa(Leticia Dolera) at home, at work things are falling apart as Enrico(Fernando Tielve), his leading man, wants to quit because his father has gone missing too. Carlos reassures him that things will be fine, as he also starts to sense the horrible truth behind his wife's disappearance. There are some things to admire about the otherwise unremarkable movie "Imagining Argentina," such as the performances from Emma Thompson and Antonio Banderas who underplays nicely but is still no Ricardo Darin. For the most part, writer-director Christopher Hampton gives the potentially intriguing material a pedestrian and heavy handed treatment. To start, the movie would have been better served if it had taken place after the military government left power when Carlos could have provided answers to long lingering mysteries with history at a safe distance. As it stands, what is he supposed to do except provide confirmation of the worst fears?(It just goes to prove that some things are best left to the imagination.) In fact, he only makes things worse. In the end, the individual stories matter little in the grand scheme of things, as the epitaph confirms that this was not an isolated situation. That may be so but also invoking the Holocaust is taking things a little too far.
Imagining Argentina Quotes
There are no approved quotes yet for this movie.