The Immaculate Conception of Little Dizzle
(2009)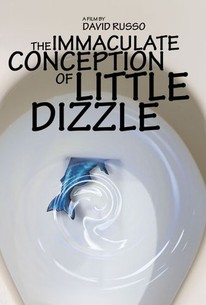 Movie Info
After losing his job, Dory is forced to become a janitor. He and his group of cast-off co-workers soon find themselves being used as unwitting guinea pigs by a corrupt cookie company... Quirky, humorous and dark, David Russo's feature debut is a stylish meditation on the meaning of garbage in our throwaway society. Featuring a hallucinatory animation sequence by renowned animator Rosto and a stellar ensemble cast, Little Dizzle is a bittersweet post-modern fable and a genre-defying cult classic in the making.
Critic Reviews for The Immaculate Conception of Little Dizzle
Audience Reviews for The Immaculate Conception of Little Dizzle
½
I have to give credit to David Russo for writing, and directing, a film that is unlike any other out there. It's a strange surrealistic comedy about a group of male janitors who, after eating a batch of incredibly cookies thrown away by the company whose building the clean, start to experience strange hallucinations and, even, pregnancy. The movie's certainly very hard to explain as it is one of those types of movies where you have to see it to get it. And I'm not even sure I did get to be completely honest with you. But what this movie brings is an energetic and imaginative approach to its story. David Russo isn't exactly a master storyteller but it's clear he had something to tell, and I do believe there is an underlying message to all this madness, and I do think that he genuinely wanted to focus on the characters as the driving force of the film and not necessarily its strangeness, even if the strangeness is what, slightly, wins out in the end. So the narrative is certainly full of flaws, but I think its inventiveness, and solid cast and writing, help make this film more than it would've been otherwise. The fact of the matter is that, as goofy as this sounds, its imperfections are part of the charm. I do think that the ending of the film was poor, almost as if they had no other way to end it and chose to go for the quickest and painless way to get out of everything. It's always been really hard for me to review these unique indie films because it's really the type of thing where you have to see it to truly "get" it. I realize that may sound as a cop-out for not writing a better review. But once you see this film, you'll understand what I mean. But yes, I think the movie gets a lot of points for at least going out of its way to do something unique and different, even if its imperfections are glaringly obvious. I still really enjoyed this film. It wouldn't appeal to a mainstream audience, at all, but it is an entertaining little film that is, surprisingly, character-driven. Flawed, but entertainingly ambitious.
Jesse Ortega
Super Reviewer
½
An idealistic but confused young man who goes through a religion a week is fired from his position as a computer programmer and takes up with a janitorial service led by a transvestite Gulf War vet; when the gang start eating addictive cookies thrown in the garbage by a research firm, they discover that the side effects are hallucinations and male pregnancy. Endlessly inventive, it gets a pleasant hip vibe going that's sort of a cross between REPO MAN and SCOTT PILGRIM VS. THE WORLD; it's only held back from cult-movie immortality by an incredibly frustrating non-ending.
½
Strange little film. Not entirely sure what to make of it - don't even know if I quite understood it, but to try and sum it up, a religious young guy is sacked from his computer job and goes to work as a janitor. The office he is cleaning is a company which makes cookies and they have been doing experiments with the ingredients. The cookies have the effect of drugs and the males end up "pregnant" with little blue blob things, which they give birth to on the toilet... see what I mean?! This is a very original film. For the most part is interesting, although occasionally found my mind wandering (however, I did watch this one late at night). It was great to see Natasha Lyonne in something more recent. She really looks great in this considering her health problems and issues in her personal life. I couldn't see her without wishing my hair looked like that! The young guy who plays Dory is also quite convincing, although some of the janitor friends were a bit annoying and unlikeable. I would hesitate to recommend this as I don't really know that it would appeal to many, but if you like something a little different, it may be worth a look.
Nicki Marie
Super Reviewer
The Immaculate Conception of Little Dizzle Quotes
There are no approved quotes yet for this movie.